It's halfway through the year and I will bet all of those New Year's resolutions have fallen aside as your busy life has taken over.  It can be difficult for women to make their health a priority but there are some things that really shouldn't wait.  It may seem to late to get back on your healthy living bandwagon, but here are 5 things you should try to do now.  Make yourself a priority and your body and your family will thank you for it later.
1.Breast Exam
No one likes a breast exam, at least I know I don't but they are very important to a woman's health.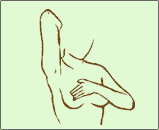 Give yourself a monthly exam while in the shower by lifting your arm above your head and feeling for lumps.  If you are concerned about anything you feel don't hesitate to call your doctor and schedule a more in depth exam.  If your physician is concerned they may encourage a mammogram.  It is best to not take things lightly.  If you are doing regular checks and get to know your body well, then you will easily be able to tell when something doesn't feel right.
The Breast Cancer Center recommends women under 40 to receive a mammogram every 5 yrs.  Women over 40 should have a mammogram every 1-2 yrs.  If you are high risk or have a family history of breast cancer you may wish to schedule routine appointments annually even if you are under 40.  If you are uninsured, medicare will pay for yearly mammograms/breast exams for those that qualify.  Also look our for free exams, I usually hear about them on the radio during Breast Cancer Awareness month.
2.Pap Smear
It is uncomfortable and embarrassing but it can save your life.  Yearly pap smears are recommended for women over 21.  The age has gone up from 18 in recent years.  Cervical cancers can be devastating to families, especially since they are generally caught too late.  By getting your yearly exam you can circumvent this and keep yourself some peace of mind.  It is recommended that you have a pap smear and vaginal exam if you are trying to conceive.
3.Get Walking
Your P90X regime may be out the window but that doesn't mean you have to give up exercising.  Walking 30 minutes a day can vastly improve your health.  And with the great weather we have been having there is no reason why you can't start today.  So pull out that stroller or strap on that baby carrier and get walking. (Tip:Walking for 20-30 minutes after eating has been shown to help burn fat faster, it is also works wonders for lowering blood sugar, especially important if you have been diagnosed with diabetes or gestational diabetes.)
4.Cut the Sugar
Yeah, you know you have been sneaking that extra piece of chocolate cake or drinking that soda to feel awake.  Sugar is addictive!  The best thing to do if you have a sugar addiction is to start with soft drinks.  Try to get down to 1 a week and then get rid of them completely.  Also no diet soda, Aspartame, the artificial sweetener in diet soda has been shown to increase the risk of certain cancers, and is deemed unsafe during pregnancy.  It is going to be hard but do your best to free yourself of your soda addiction.  If soda isn't bane then make inroads to putting whatever food addictions (coffee, chocolate, fast food) you may have in their place.
5.ZZZZZZZZZZZ
Get some stinking sleep!  Not getting a good nights rest can seriously impair you ability to live a healthy life.  It is difficult when your have infants or young children to get a good nights rest.  But it is vitally important that you and your family sleep well.  Although I fully support co sleeping, I had to start putting my son in his own bed after he turned 1, and everyone slept better.  Whatever you need to do to ensure that shut eye is quality, do it.  Your body needs that time to recuperate and heal.
Lastly: If you are smoking or drinking alcohol regularly it is highly recommended that you find a way to stop these life threatening addictions.  If you are unsure as to whether you are drinking too much then you probably are.  Talk to your doctor about ways to tackle these addictions and change your life today!