I know we are nearing the end of summer, but there are still some warm days left for an ice cream treat. Who am I kidding? Ice cream can truly be enjoyed all year round. I came across this recipe Online and thought this was too incredible not to share!
I know some families struggle finding healthy (and tasty) treats for kiddos with special dietary needs. This ice cream would work to make everyone in your family happy!
Check out this one ingredient frosen treat: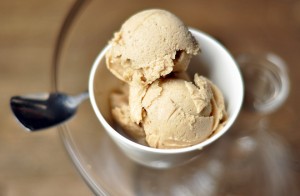 Dairy Free - Gluten Free - Sugar Free – Vegan Friendly
That's right! You don't even need an ice cream maker. Just grab a few frozen bananas and a food processor or blender and you can make homemade BANANA ICE CREAM.
Who would have thought that when you blend a frozen banana, you get such creamy goodness? I originally thought it would be flaky or icy, but it turns out that frozen bananas can become creamy rich ice cream. The little bit of natural fat in a banana is the trick to turn a frozen banana creamy instead of crumbly when blended.
Here is the Step-by-Step:
1. Peal a couple of ripe bananas (they should be sweet & soft but not too mushy)
2. Cut bananas into small pieces or chucks
3. Freeze for 1-2 hours on a plate (until the pieces are hard all the way through)
4. BLEND!! They will look crumbly at first but keep scraping down the bowl when they stick
** EXTRA (when the bananas turn creamy add anything else you care to mix in)
5. Enjoy your one-ingredient banana ice cream!
The texture will be similar to soft-serve, but you can freeze it again in an air-tight container to make it harder and have a more similar texture to regular ice cream.
** There are so many possibilities to turn this into a 2 or 3 ingredient recipe by adding your own extra flavors. If you want, try a tablespoon of peanut butter or honey. Maybe you want to add a few gram crackers or pretzels for some crunch. You could even throw in a small handful of chocolate chips. These extras may add to the calorie count, but it seems fun to mix it up and try other banana flavor combos.
I am so excited that I found another way to serve one of my daughter's favorite foods – BANANAS!