About six months ago I discovered that my son was allergic to gluten and diary.  I had always known he couldn't handle whole wheat, but I didn't know how far it had gone.  Many parents don't realize that their child is allergic to gluten until they are toddlers. This is due to the fact that their diet before then usually consisted of formula or breast milk and pureed fruits and vegetables.  It isn't until more gluten rich foods are introduced that parents become aware of a problem.  Even after you know that your child has an allergy you may not know to what or how to deal with it.  Gluten allergies are actually becoming quite common and can manifest themselves in different ways.  For my son it was a rash and irritable bowels.  If you are wondering if your child has a gluten sensitivity here are some things to look for.
Extreme Fussiness
Regular Constipation or Diarrhea
Rashes or blotchy skin
Some children will appear drunk or dazed
Glossy eyes
Stomach complaints and Frequent Gas
Regular ear infections and respiratory infections
Fatigue Listlessness
Failure to Thrive (will not gain weight)
Autism, ADD, ADHD
Depression
Asthma
These are just a few of the symptoms.  I would not advocate people to just go out and try a gluten free diet, but if your child has some of these chronic symptoms it may be worth trying it.  In about a week I saw vast improvement in my son.  No more breakouts and runny diaper changes.  It was relief to have figured out the problem and be able to work towards healing him.  Many children who are allergic to gluten will digestive issues, if not caught in time; these can lead to a leaky gut, which could cause Cohn's disease and other maladies in the future.  It usually takes about 6 months for the intestines to heal fully, which means that parents dealing with these allergies need to be very strict during the healing process so as not to reintroduce gluten to their child's delicate system.  If you are unsure of whether you can pinpoint an allergy, you can ask your doctor to perform a test.  These tests can sometimes be misleading so sometimes just trying to remove the item from your child's diet and waiting a few weeks is often the best test.
Being on a gluten free diet is not easy.  Nearly all commercially prepared foods have gluten in them, and specialty products can be expensive.  However it is not impossible.  Chex cereal is gluten free and their website has some gluten free recipes that can be a good place to start your research.  Once you have the basics of a gluten free diet, (no wheat, barley, oats, etc.) it is easy to substitute and cook meals that the whole family can enjoy.  One of my favorite gluten free cookbooks is called Cooking for Isaiah.   It has delicious recipes and many of them are things that your child will actually eat.  It is a great resource for parents hoping to remove gluten from their diet.  One of the hardest things about being gluten free is not being able to allow my son to have dessert of any kind.  Almost everything has gluten or dairy.  So on occasion I make gluten free peanut butter cookies.  It is an easy recipe and as long as your child is not allergic nuts it can be a good way to bring something sweet onto the menu once in a while.
Gluten Free Peanut Butter Cookies
1 cup peanut butter
1/ 2 cup Sugar (I use less sugar and add some honey instead)
2 eggs
1tbsp Vanilla (must be pure some vanilla contains malt which
is not gluten free)
Mix it all together and spoon onto wax paper, put in oven on cookie sheet, bake for about 10 minutes or until browned at 350 degrees, done!  (This is a good recipe even if you are not gluten free)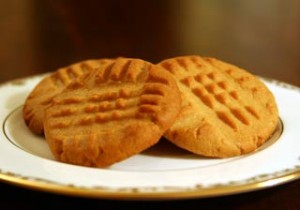 If you are concerned about gluten being the culprit in your child's diet then I would urge you to remove gluten as soon as you can.  It is not that difficult to become gluten free and there are many online resources to help you out.  My whole family is gluten free now and we all feel better for it.