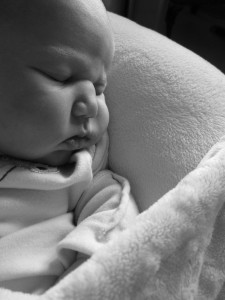 My little baby will be turning one in exactly a month from today and it has been one amazing year for sure! I had an intervention free birth in a hospital. It was a very positive and empowering experience for me. We had a wonderful doula that helped support us both emotionally and physically throughout labor. I never felt like I had to "fight the system" to have the natural birth I wanted and I give our doula huge props for that! It's a long story, so I will break it up. Part One: Laboring At Home
I'll start this story when I woke up Tuesday morning at 5 AM with a 'tummy ache' – little did I know at the time that this was the start of my labor with AL. When I realized about 10 minutes later that these crampy feelings had a start and a finish it hit me that these could be contractions. The hubs woke up and we laid in bed staring at each other in disbelief.
The contractions were about 2 minutes apart but only lasted 20-30 seconds – we learned that contractions should be 5 min apart, lasting 1 min or more for at least an hour. We had two options: wait for them to spread out or wait for them to go away. As much as I didn't want them to go away (being 2 weeks overdue) I knew that if I could get rid of them, they were not going to bring us a baby. Luckily, no matter what I did, they would not go away.
Throughout the day I was able to work through the contractions with the support of my husband at home – He was AMAZING! He said exactly what I needed to hear and would encourage me to try different things to make me as comfortable as possible. I took a shower, watched a movie, and would go back and forth from the tub to our bed all day. He also made sure that I drank a lot of water. He fixed me small snacks (grapes, oatmeal, yogurt and applesauce) to eat until I didn't feel like eating anything else around lunch time.
There was one point in the afternoon that I started to feel pressure in my back – When I would finish a contraction, I couldn't get a break in between because my back was hurting all the time (this was the only time during my labor that I started to panic a little). My husband called our doula for some help. She said that the baby is moving, turning and fell in a spot that was putting pressure on my spine. She gave him some ideas to try with me to help our baby move into a more favorable position (he grabbed a cold can of soda to roll up and down my back) and also told him to take me into AL's room to help me keep my focus during contractions. I began to feel nauseous and when I did get sick, it forced the baby to move and I felt good again.
I was able to sleep 2-3 minutes in between contractions, but they were definitely getting more intense. They had spread out to 4-6 minutes and were lasting a little longer than a minute. My husband called our doula again to check in and told her that my mood hadn't changed yet (that was also another sign the dads were told to look for in moms before going to the hospital). As I breathed heavily in the background through my next contraction, our doula told him that she though he may have missed my mood change… she asked if I usually talk a lot (ummm, yeah) and asked if I had talked on the phone recently. Tyler confessed that I had refused to answer any phone calls. "Buddy, you missed the mood change," She told him.
My contractions were strong, but manageable and I leaned against the bed trying to focus myself. It was important to me to labor in the comfort and quiet of our house as long as possible. As my contractions grew stronger and closer together, my husband massaged my back and hips as I breathed through them.
It was about 10:30pm when I felt they were getting so intense that I couldn't breathe through them in comfort any longer. While my husband called our family and prepared the last items for our hospital bag, I tried to steady my emotions. We had done so much, worked so hard, dreamed of this day and it was finally here. My contractions began to get stronger and I was hit with a wave of emotions. I went into AL's nursery one final time before we left. I leaned against her crib. I said a long prayer to God and asked him to watch over AL and I in the coming hours. My husband then took a last minute photo to capture the girth of my 42 week tummy: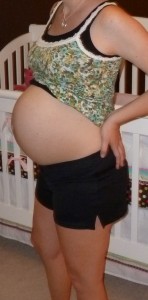 PART TWO: A Natural Birth: At the Hospital…