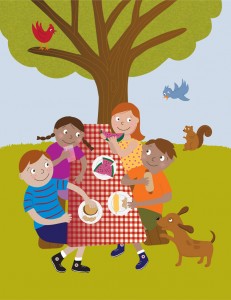 You child may not have allergies to any foods, but it is very likely that if you are planning a party or event this summer that someone on your guest list might.  Although many parents of allergy prone kids plan ahead and bring their own snacks it is thoughtful when a host thinks ahead and prepares at least one treat that everyone can eat.  Even if you are not sure if anyone might be allergic to your party munchies you never know and it is best to be prepared.  Below are common substitutes for every day ingredients that can make just about any recipe allergy free.
Eggs: Eggs seem like an unlikely allergen but it is on the rise.  Luckily most children outgrow this allergy by the time they enter adolescence but in the meantime here are some easy egg substitutes.
½ a Banana, ¼ cup Applesauce or other pureed fruit, 3 ½ tablespoons gelatin, 1 tbsp flax seed ground up and mixed with water, Xanthum Gum is a good binder for cakes and cookies.
Milk: Lactose Intolerance is a very common allergy, but milk substitutes are easily attainable which makes dairy free cooking pretty easy.
Butter: Margarine, Cheese: Rice or Soy Milk Cheeses, Milk: Coconut, Almond, Rice, Soy Milk.
Wheat: A majority of people who are allergic to wheat are actually allergic to gluten.  Gluten free recipes are easy to find and you can use gluten free all-purpose flour to make just about anything you would make with regular flour.
Rice Flour, Chickpea or Bean Flour, Tapioca Flour, Potato Starch, Gluten Free Rolled Oats
Nuts: Nut allergies are easy to overcome, you can just take them out of any recipe that includes them.  But if you can't live without peanut butter, they do make soy and sunflower seed spreads now.
Those are the basic substitutes for common allergens keep in mind you will have to play around with recipes when you are making substitutions as they may not turn out as you generally expect.  Below you will find a recipe that everyone can enjoy, no wheat, gluten, dairy, eggs, or soy.  This is one of my favorite recipes…it combines savory meats with a fruity twist.
Summer Turkey and Rice Salad
1/2 c. dry wild rice and 1 c. dry brown rice or 1 1/2 c. dry wild rice mix, you can also just use white rice, or quinoa or couscous, or a mix of several different grains.
Olive Oil and Broth for Rice-3/4 cup broth per cup of rice, if you have a rice cooker use its measuring cup
1 lb. Turkey, Chicken, this recipe also works with Tuna
1 ½ cups of dried fruits, chopped, raisins, currants, apricots, cherries, etc.
Dressing:  1 avocado, 1/4 c. rice milk, Spices to taste: Paprika, cumin, even cinnamon works,  1-1.5 T lemon juice, Dijon Mustard, salt and pepper.
Cook your rice in the broth, a rice cooker will make it niceand fluffy, put in olive oil and mix after rice is cooked.  Then add in your cooked and chopped turkey breast, you can also buy an already cooked chicken or leftovers.  Mix all your ingredients together.  Stir the dressing into the turkey mix, and refrigerate if desired.  You can serve this on its own or on a bed of lettuce.
Strawberry Lemon Caps
1 coconut milk, if you can find dairy free cream cheese that works best
1/2 cup confectioners' sugar
2 teaspoons finely grated lemon zest
1 1/2 teaspoons  fresh lemon juice
2 containers large strawberries
Combine lemon juice, coconut milk, lemon zest, and powdered sugar, in food processor, chill for one hour.  Cut off tops of strawberries, and cut out middle so there is a large gap.  Put coconut lemon mixture in patry bag or a ziploc with tip cut, pipe the mixture into strawberries and chill for at least 3 hrs.  You can garnish them with mint leaves or lemon zest.
Remember: Almost all Veggies and Fruits and allergen free, so just having a veggie plate or a fruit salad is a good idea if you don't want to make a totally new dish for you guests.
Another Tip is to put little drink umbrellas or colored picks in dishes that have nuts.  Nuts have one of the most extreme reactions.  My brother was severely allergic to nuts and every Thanksgiving he ended up being rushed to the emergency room.  This could have been avoided with a simple marker letting him know what he could and could not eat.  I seem to find myself writing a lot about allergies but it is an issue that is often overlooked unless you are dealing with it yourself.  These are just things to keep in mind so everyone can enjoy your summer gatherings this year.