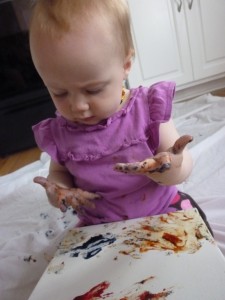 I strive to provide AL with new experiences, building her creativity and exploring the arts. So you could image my excitement when I found out that there is a natural, organic, edible and safe way to finger paint with my baby that is non-toxic because the paints are made from vegetable and fruit powders. They are dye free, dairy free, wheat free and vegan friendly!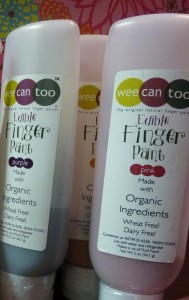 A few of my friends have used these paints and recommended them to us. It was a little different than typical finger paints because it had a bit of a gritty texture providing tactile stimulation. Since these paints are okay to eat, that texture makes them great for infants, toddlers and kiddos with special needs.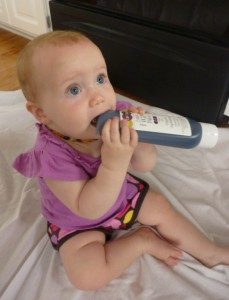 Sunday was a bit chilly and gray in Kansas City, so we decided it would be a perfect day to throw down a sheet and get out the finger paints. There are 5 colors to choose from: AL used the orange, pink and purple. My husband and I really enjoyed our time with AL creating masterpieces and making a serious mess together!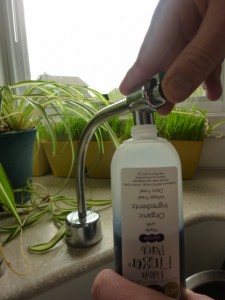 Because this product is truly organic, when you use it for the first time, after you fill the container with water, it needs to be put into the fridge. If you have a product in your home that claims to be organic (i.e. make up, etc) and it doesn't require refrigeration after opening, it more-than-likely has some kind of chemical to help it's shelf life. The back of the paint bottle says that it will be good for about a month in the refrigerator.
Regular paper works just fine, but we fancied it up last weekend by grabbing two blank canvas for AL to paint. All three of us were laughing as we tried to figure out the best way to get the paint on the canvas. First, we tried putting the paint on plates allowing AL to pick a color and paint. This method would probably go over better with toddlers…
Next, we decided that we would squeeze a little paint onto the canvas and then allow AL to smear it around that way. This worked so much better for her…
Her daddy and I think her paintings are gorgeous… and our goal was accomplished: We had a super fun time together. The best part was that we never had to pull AL's paint covered hands from her mouth and tell her "no" over and over. We just laughed and watch AL make a huge beautiful mess.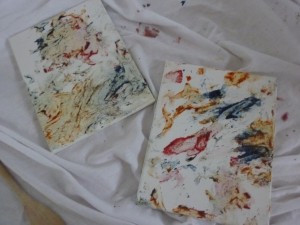 We are so excited that we found a 100% safe and natural way to create art together. I had to write a post about these paints because I had never seen anything like this before! There are currently no stores in the Kansas City area that carry these products on their shelf, but I have heard that it could be a possibility if there is enough interest. Local and Organic – the best of both worlds!
Would you use these finger paints with your little ones?