This is one of those recipes that will make you go, "Ahhh, Fall!"  So it's perfect for right now.
APPLE CHICKEN
4 chicken thighs, pounded thin
1/2 medium apple, diced very small (I used honey crisp)
2 T real maple syrup
1/4 cup shredded Dubliner cheese (can sub with white cheddar)
1/4 tsp cinnamon
1/4 tsp nutmeg
1/8 tsp all spice
toothpicks
lard/bacon grease
1/2 cup unfiltered apple juice or cider
Mix together your apple, syrup, cheese, and spices.  Even spread the mixture over your 4 chicken thighs that have been pounded thin.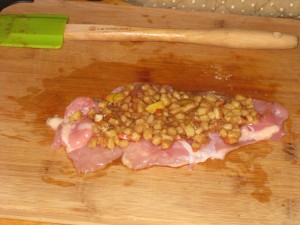 Roll your chicken up and secure it in rolls with several toothpicks.  They don't have to look pretty…see?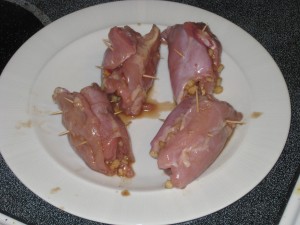 Warm a cast iron or stainless steel skillet up with a couple tablespoons of lard/ bacon grease until nice and hot.  Sear your chicken rolls for 2 minutes on each side.  Pour in your apple juice/cider and cover with a lid for 10-12 minutes until chicken is cooked through.
I served ours with roasted cubes of sweet potatoes.  It doesn't get much more fall-like than this does it?  These were coated in oil, seasoned with sea salt and paprika, and roasted in a 425 degree oven for 30 minutes.
I unfortunately don't have a finished product picture of the chicken because my family devoured it!  Even my daughter who normally turns her nose up to chicken asked for seconds.