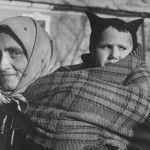 My original plan was to highlight different places around the world and how they babywear.  But after a bit of research I realized that a majority of countries use mainly one type of carrier, Sling, Wraps, or a combination of the two.  Slings and wraps are babywearing at its simplest.  No snaps and straps, just you your baby and a piece of cloth.  Even though this style of carrier may seem outdated, it has survived generation after generation as a time tested mode of carrying babies.  Although slings and wraps may have become fancier in recent years, with companies like Sakura Bloom offering gorgeous silks and artisan style patterns, the basic idea of the sling has not deterred from its original.  By taking a quick look around the world you can see how traditional babywearing has remained an important part of female society.
In the beginning slings would most likely have been made from animal skins and worn more like a pouch sling, one continuous piece of material that formed a pouch for the baby to sit on the mother's hip.  Eventually these primitive slings would be made with fabric, most likely linen like materials for their durability and availability.  Linen is still a favorite for slings and wraps today.  As time went on the simple sling pattern would have been adjusted to fit the needs of the mother, and the materials used would have been indicative of the resources available and climate requirements.  Some of the carriers today showcase an artist's touch and you can see that it is no longer merely a utilitarian need but an outreach of ethnic and individual personality, every from India to Germany use simple slings and wraps.
Slings that are manufactured in the US today still rely on those original ideas founded by women thousands of years ago.  Companies have made it their business to create gorgeous slings that not only make a woman's life easier, but have the power to make them feel beautiful as well.  There is something so feminine and earthy about wearing a sling or wrapping.  Sometimes I even become inspired to switch those baggy sweats for a dress and maybe even fix my hair.  It seems silly but allowing babywearing to fuel your confidence as a mother and woman is extremely important.
Will my husband wear a sling or wrap?  Umm, honestly there may be some men out there who will, Sakura bloom and a few other sites do showcase men wearing them, but I have never gotten my husband to wear one, I got him to try one on once and that was it.  You can always go for it but you may want to have a backup carrier for dads.
A note about wrapping: Wrapping seems extremely difficult.  But after watching a few you tube videos you can probably figure out, just a have a spotter those first couple of times.  You can also always go to your favorite local natural parenting store aka Happybottomus, where someone would be glad to assist you in figuring out all the twist and turns of wrapping.  The Moby wrap is very easy to use for newborns so if you are interested in learning to wrap it may be a good place to start.
Since we are discussing Slings, a PSA on sling safety is in order.  Bag Slings have been banned!  Don't buy one and if you see someone wearing one please inform them of the dangers.  A bag sling looks like a shouder bag that you put your baby in, for obvious reasons this is dangerous.  Your baby should be close enough to kiss the top of their head, if you can't do that it isn't safe.  Some similar styles have slipped through the recall cracks so be wary of any carrier that doesn't keep baby close to you.  For more on sling safety you can consult this web page:  http://babycarrier.blogspot.com/2008/01/draft-babywearing-safety-bag-slings.html