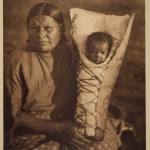 I couldn't end this world wide babywearing tour without at last stopping off to the place most of us call home The Americas.  It may seem as if babywearing is a recent trend among parenting conscious mamas and papas, and in a way that is very true.  Babywearing has certainly made a major jump in the last twenty years, from being an obscure oddity to becoming an accepted part of raising a child.  But in this new wave of soft structured carriers and silk slings it is important not to forget our babywearing roots.  North America has a rich attachment parenting history and exploring the road to the new style carriers can help us to appreciate those who recognized the need for kangaroo care.
Starting in the Far North lets pay a visit to our Alaskan and Northern Canadian cousins.  Babywearing in below freezing weather may seem nearly impossible but the Inuit and fellow native tribes of the Far North found it to be necessity.  With the need to keep both baby and mother warm the Amauti carrier was born.  This style of carrier resembles a coat with a very long and wide hood.  It is difficult to explain but the baby sits on the mothers back sort of in the hood like a mini hammock.  The hood is then large enough to pull over both the baby and caregiver to block out the cold air.  You can purchase new style versions of these carriers but unless you are planning to trek through a tundra a peekaroo or other coat with a slit for baby to poke its head through may work better.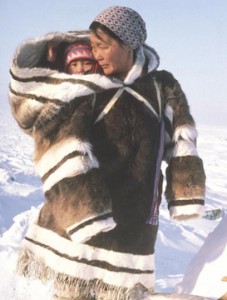 The Native American Tribes of the wide expanses of the United States developed what have been the original backpack carrier.  Using wood as the back board and adding leather to strap the baby in these carriers were then hoisted onto the mothers back with straps.  Although we would later learn that this type of carrier can cause Hip Dysplasia because of the upright position.  (It is believed that some soft carriers which cause the baby to hang rather than be supported in a sitting position with knees up, may also cause this issue.  It is important to make sure your carrier is ergonomic in order to ensure that Hip Dysplasia doesn't become and issue.) Even though it may not have been made to the special requirements of infant bone structure it still made its mark and inspired many similar style carriers.  Later becoming known as a Papoose, papoose is actually a native American word for baby, these carriers would become greatly detailed showing the talents of area artisans.
In South America we once again see the wrap take center stage.  These were sometimes modified with wood backing similar to the Papoose.  The Caribbean Island and the Bahamas welcomed many different types of carriers.  Because of the varied nations which eventually populated the tropical seas each influenced a different style of babywearing.  Wraps and slings seem to be a favorite because of their lightweight materials and breath-ability.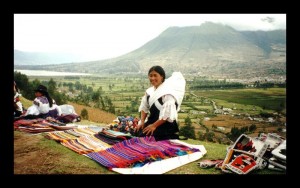 I hope you have enjoyed your journey through the many lands of babywearing.  No matter where you call home babywearing can have special impact on the bond between parent and child and should be celebrated in whatever form it takes.