When I first started working out I either had to do it super late once my son was asleep or risk tripping over him while I jazzercised my way to fitness freedom.  For obvious reasons this wasn't working.  There had to be a better way.  It was so simple I couldn't believe I hadn't thought of it before.  It is what I like to call my Babywearing Butt Buster.  These are quick little exercise that you can do anywhere and anytime.  Waiting for water to boil, do some squats.  Is the grocery line taking too long?  How about some calf raises?  This is a great way to get you in to the mode of exercise without having to think too much about it.
I didn't even realize how much babywearing can do for calorie burning until I looked it up on a calories counter.  Walking for 30minutes at my weight burns around 110 calories, doing it with a 26lb toddler on your back moves it up to 230 calories burned.  That is amazing.  Just think about how often you walk around the house with your babe in a sling or carrier?  Did you know you were exercising?  Well you do now.  And the best thing about it is that you are spending time with your little one while you are getting fit, it is a win win situation.
Now you can do just about any exercise while wearing your baby, but remember not to jump or bounce too much, you don't want your baby getting jostled, as well as the possibility of injuring yourself because of the added weight.  So pick low impact strength building routines and find out what works for you.   Here are a few of my favorites.
This first one I call the Time Out…yes I did give these exercises cheesy kids names…so enjoy my dorkiness.  Okay basically you just stand and then go into a chair position, hold for 10seconds, more if you can and repeat.  Be careful not to let your knees get further than your ankles and don't strain that lower back, if it hurts, stop!


Okay next is the High Chair, stand straight go into a calf raise reach your hands high, and then into chair, and back up again.  Easy peasy.

I was thinking this one looks most like Block the Stairs, but we call it the Toddler Squat instead.  Stand straight, do a wide legged squat and repeat.

This last once is double legged lunge.  I have no cute names for it so if you have an idea let me know.  Stand straight lunge forward, don't go lower than is comfortable, stand back up and lunge forward with the other leg, repeat.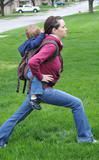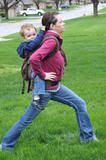 I usually do 10 reps of each and then repeat the whole set 3 times, of course these also just work to throw in a few when you have the time.  Keep your body in mind and don't do more than you and your baby are comfortable with.  Babywearing is wonderful for so many reasons and I am just happy to share on more with you!