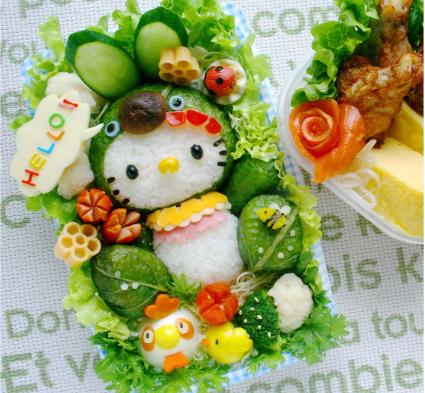 With school now back in full swing you may be searching for ways to make lunch more interesting.  You can pack your child's lunch box in a new way with bento boxes.  Bento boxes make meal time fun and encourage a wider variety of foods, plus kids will love all the neat things you come up with.  Bento boxes can be fancy or just a hodgepodge of finger foods, either way you are sure to make your child the envy of the cafeteria with these fun and healthy ideas.  And as an added bonus that picky eater toddler might enjoy one too.
What is a Bento Box:  Bento boxes come in many different sizes and styles.  Originating in Japan, they are the brown bag equivalent.  A bento box is compartmentalized into different sections; you would then fill each section with a different type of food.  These boxes are becoming popular in the United States as well. Perhaps you have seen the Laptop Lunches boxes, they are actually a bento box.  Most bento boxes are stacking, which means you would have two to three tiers to place food in.  In Japan your bottom tier would be rice, maybe meat and veggies on the second, and fruit etc on the third.  An important tip is too allow food to cool before closing up the box, this keeps the food safe to eat and allows it not to spoil.
Fancy Bentos:  Bento Art has become all the rage in Japan.  Mothers take a good deal of time to create fun and fabulous lunches for their children.  When I first came across bento boxes I was amazed at how they were able to create such intricate little animals from a piece of fruit, or an octopus from a Vienna sausage.  The avid bento boxer turns lunch into a masterpiece, but everyone can learn to easily add some bling to their box.  After doing it a few times it is pretty easy.  Here is a lovely video on how to create a mouse bento box, as you can see from the video, although the final product looks like it would take a lot of time, it really wasn't all that difficult.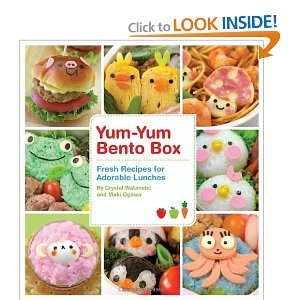 If you are interested in trying out bento boxes but unsure of where to begin I suggest you check out the book Yum Yum Bento Boxes (there is also a short video on amazon) This book has really cute ideas and they are easy to follow.  I really like all the color photos with step by step instructions.  There is also an easy to follow ingredients section if you are not sure of what the best choices for bento boxes are.
Ideas for Bento Boxes:
Fruits and Vegetable (Make them into fun shapes or into dippable sticks)
Rice and Cold Pastas (Pasta salad is the perfect bento accompaniment)
Eggs (Eggs can be molded into all sorts of cute shapes, also omelets and scrambled eggs make good choices, make sure to let them cool)
Meat:Just about any meat can be added to a bento box, I would stay away from fish just to be safe, unless you are very comfortable with how to properly pack it.  Again let the meat cool.
Cheese and Yogurt (Freeze the yogurt before putting in the box then it will thaw by lunchtime and still be safe to eat)
Rolls, Cornbread, Muffins, and Fun shaped Mini Sandwiches
Beans and Dips (Hummus is great in a bento box and good for dipping veggies)
If you want the rules on bento box packing and how to keep food safe for consumption the site Just Bentos is a world of information.  Remember Bentos are not just for kids, adults can enjoy them too.  They are well portioned for dieters and those who need a little variety from the turkey sandwich.