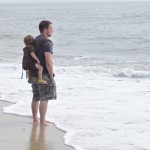 I absolutely love carrying my son, but now that he is getting heavier and heavier my husband is taking on that task more.  I love seeing my little boy all cuddled up on his back and it is a good time for closeness with dads in a busy world where many fathers work all day and have little time to share special moments with their little ones.  Babywearing can help to fill in these gaps and create a close bond between parent and child.
When looking for a carrier to fit your husband or partner, it can be difficult envisioning how it will be on them.  If you have the opportunity to go to a store and try one on, I would recommend it.  You may find that what you thought would never work does and what you were certain would, does not.  If you do not have the ability to go test out there a few carriers that seem to be top daddy picks, based on reviews.  We decided that the Ergo Organic was the best fit for us, it was easily adjustable and we could both wear it.  My husband who served in the military has commented that it has almost the same fit as his pack, so he was comfortable using it.  They come in a mostly neutral color pallet and wear well.  Although I love my Ergo, there are plenty of other options out there.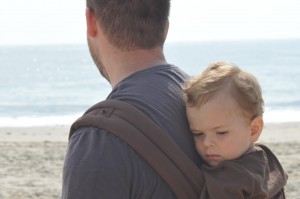 The Beco Butterfly II is also a popular choice among men and women.  Because it has an internal panel you can transfer the carrier to another user without having to completely remove the baby.  You can also put the carrier and baby on before having to adjust the straps which may be easier when moving from someone who is petite to a tall man.  They have also released the Beco Gemini which has a slightly different design than the butterfly.  They have very pretty patterns and prints; however they all in my personal opinion look a bit girly, they do offer solid black and brown.  If your husband does not have problem with that then the Beco would be a great carrier to purchase.
Mei Tai carriers allow you to personalize the fit of the carrier through a set of ties.  A Mei Tai is on my list of carriers to add to my babywearing stash.  I especially appreciate the ability to customize the fabrics on a Mei Tai which many manufacturers provide.  Babyhawk gives you the option of a reversible carrier.  So you could pick a more manly print for one side and girlier print for the other.  Babyhawk has also released a snap Mei Tai that is cut larger and intended for toddlers, I have heard that it provides a very nice fit for men.
Slings are a bit of a gray area when it comes to men.  My husband refuses to wear any of my slings.  I got him to try one on once.  And although he admitted that it was very comfortable he said he wouldn't go out in public in it.  I on the other hand adore my slings and they are usually the first carrier I grab for when running out the door.  I don't want to discourage you from attempting to get the man in your life to use a sling; there are many men who do.  The Sakura Bloom website has an entire section devoted to men wearing slings, so if a ring sling is what your heart is set on, it may take some pushing, but I am sure you can get daddy to come around.  Wrapping probably goes along with slings, give it a shot, but don't be surprised if you husband looks at you like you just lost your mind.
There is nothing better for creating closeness than babywearing.  It is important for our parenting partners to be able to take part in carrying their children.  I can almost guarantee that if you encourage babywearing among men you will foster parenting confidence and strong bonds between father and child, and you may just get to take a break in the process.