Team Green is another way of saying that the expecting couple want to keep the baby's gender a surprise until birth day.  I do not have the will power to do this, and very happily learned I was having a little girl this time around, let the shopping begin!  However I do have a friend and several acquaintances who are choosing to keep the surprise for the big day.  Although I believe it will be an amazing experience for them, this does makes gift giving slightly difficult.  In the past your gender neutral choices meant white, and the occasional green or yellow.  These are still staples in the team green category but there are so many other gender neutral ideas out there now.  Here are some team green gift ideas that will make all that boring white run for cover.  If you are attending any baby showers this year and the parents are keeping the gender secret these ideas may help.
1.Sophie the Giraffe, this vanilla flavored teether is a favorite among everyday moms and celebrities alike.  You can't go wrong this.  Besides that it is made from natural rubber and is eco friendly this would be equally acceptable for a boy or a girl.  Vulli also makes teething rings.  Sophie the Giraffe retails for about $25.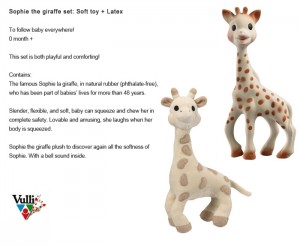 2.Aden and Anais Swaddlers, these blankets amazing.  They are far superior over flannel receiving blankets as swaddlers and any parent would be overjoyed to receive one as a gift.  Many of the print choices are gender neutral.  A single pack is around $20 and a 4 pack is about $45.  Don't miss out on their other great products like muslin bibs and washies.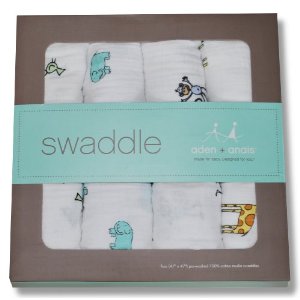 3.Cow Print, cow print items are great for a boy or a girl.  Parents can easily add a matching bow to a onesie if they learn that their bundle is a girl.  Plus, is there really anything cuter than cow print.  Mooove on over pastels.  Best Bottoms Cover $16.95, Babylegs $12, Moome Onesie by babygags $19.95.
4.Baby Soothe Basket, gift baskets will always be in style.  Make a soothing basket for baby by including things like natural butt balm, gripe water, and an amber teething necklace.  Top it off with Joey Bunz Hemp Washies and a natural bath set, like California Baby. Gripe Water $4-8, California baby $6-$20, Hemp Washies $15.95.
5.Boon Inc. whether the mom to be is breastfeeding or bottle feeding they will find a place for the wonderful line of products from Boon.  From feeding essentials like bottles and utensils, to fun bath toys and high chairs, boon has a lot to choose from. Best of all these modern products come in ultra fun colors like bright orange and aqua.  Prices vary.
6.Moby Wrap, with many gender neutral colors available a Moby wrap can easily open the world of babywearing to a new parent.  $44-59.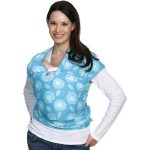 There is also always the choice of gift cards.  If you do go the gift card route add a little something special in with it to make the gift more personal.  If the couple is registered you can purchase gifts from the registry.  I have done this in the past but depending on how well you know the expectant couple sometimes thinking outside the registry box can give the new parents an exciting product they may not have considered before.  Remember to save those gift reciepts if the item needs to be returned.  Happy Shopping!