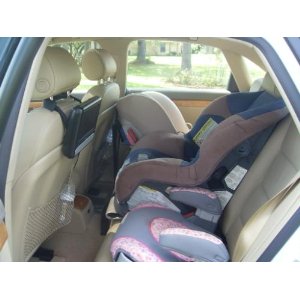 Car seats are probably one of the most valuable investments that a parent can make when preparing for the arrival of their child.  There are literally hundreds of car seat options.  This variety is a good thing, but it can also make picking the right car seat for you a little difficult.  There are serious safety and finance considerations that need to be made when placing your child's wellbeing in the forefront of your mind.  Recommendations vary, but there are some key points that each and every parent needs to address before pulling out your wallet and making that big purchase.
Keep it Snug
Your little one will not feel the effects of a tight car seat strap, but they would feel the result of one that was too loose in the event of an accident.  It is also suggested that snowsuits, jackets, and any puffy clothing be removed prior to buckling the child in.  Car seats are not designed to fit over bulky clothing and it may void any warranty you have as it puts too much stress on the straps.
No Aftermarket Accessories
This means no putting things on the car seat that didn't come with it.  This could refer to sucking pads, or neck supports, even car seat covers are a no no.  If the products and the car seat were manufactured by the same company it is usually okay to use these as they were specifically designed for their child seats.
Infants and Toddlers need to be Rear Facing
Most people know that an infant who is under 20lbs and one year old needs to be in a rear facing car seat, but they may not know that the American Academy of Pediatrics recommends babies and toddlers to be in rear facing seats for as long as possible. When a child is rear facing it makes a  vehicle impact less jarring on their fragile bodies and keeps the risk of whip lash lower.  It is okay if your toddler's knees are bent or if their feet touch the seat.  Legs are meant to be bent, necks are not.  I know that that can be a graphic image but this is why it is so important to follow safety recommendations.  My son recently turned two and is just now facing forward, but I would have rather him stayed rear facing for another year.  This would have been possible if I had invested in a convertible car seat that allowed for longer rear facing, which moves me to my next point.
Which Car Seat is Number 1?
Well that is a tricky question.  Infant bucket seats are all very similar.  Although Britax and Chicco have great reviews, more affordable options like Evenflow and Graco also do well in testing.  It is important to choose a good car seat as your child will be in an infant seat for at least the first year of their lives, but when it comes to infant shuttle seats there isn't a huge difference.  Do your research, these seats are pretty fail safe.
When it comes to convertible seats there is more variation on the market.  Some allow for rear facing up to 40lbs while other only allow it for 35lbs.  This can make a big difference depending on your child's size and how long you plan to rear face.  Here is a quick list of the top Convertible seats and some quick info.  These will appear more expensive than other options but remember that most accommodate 5lbs and up so it may be a better investment in the long run.
Britax Marathon 70: 5-40lbs rear facing 70lbs forward facing ($280) Number 1 choice of most parents.
Britax Roundabout 50 Classic: 5-35lbs rear facing 50lbs forward facing ($200) A classic car seat with good reviews main complaint is that is bulky, but still a good price for
the quality of Britax.
Sunshine Kids Radian65SL: 5-40lbs rear facing 65lbs forward facing ($230)
Combi USA Coccoro: 5-33lbs rear facing forward facing 40lbs ($230) This is a good car seat if you have a tight fit, you can fit three of them in a midsized vehicle.
Cosco Scenera: 5-35lbs rear facing 40lbs forward facing ($50) No bells and whistles but an affordable option with good reviews and crash testing.
Of course there are other car seats that have really good testing and may be better for your family; this is just a quick cap of what is popular right now.  If you have any reviews for these seats or any others please leave them below.  You can consult the American Academy of Pediatrics here if you have any other safety questions.