After about the first month of using cloth diapers some serious rashes/burns started to pop up on my sweet baby's bottom (one of the reasons we chose cloth diapers was because your baby doesn't get diaper rash). I'm talking about raised, warm, circles that would end up peeling – sad! I was so confused and was sure I was doing something wrong. Am I not changing her often enough? Am I using the diaper wrong? We use baby washcloths with water for wipes, so I knew it couldn't be the wipes.
I racked my brain for solutions to my problem – and my poor baby's bum. I could not figure out for the life of me what we were doing wrong and almost threw in the towel all together…. until I read this cloth diaper detergent chart that rates (almost) all detergents and how well they work with cloth diapering and how much it costs per load.
Our detergent was almost out and we needed to order more. We had been using the powdered version of Charlie's Soap, but I was curious about what was on the the detergent chart. The section for Charlie's Soap warns that some parents have reported burns on their babies – ahhhhhhhhh!!! AL has shown no other signs of having sensitive skin so I had never thought about the detergent being a problem. I felt so terrible – why hadn't I thought about the detergent before?
I stripped the diapers (a deep clean with a cup of non-chlorine bleach and tablespoon of dawn dish soap) – no burns – then I made sure I was using the correct measurements explained on the Charlie's Soap website for sensitive skin – but the burns eventually came back. I threw all the diapers back in the wash for another deep clean and then used our new detergent from Happybottomus: Rockin' Green Bare Naked Babies (unscented) Classic Rock. (TIP: If your little one is really sensitive, try their Bare Naked Babies Soft Rock) We have had a smooth baby bottom ever since!
I contacted Charlie's Soap to inform them about our problem – they were so kind talking me through some other ideas I could try to make sure that I was using their soap correctly. Because Charlie's Soap will eventually pull out residue left behind from previous detergents on towels and clothing (if you use a different detergent outside of your cloth diapers) the other detergents could be leaving residue behind getting on the cloth diapers and causing a rash/burn. They also said that it could be hard water in our home.
The person I talked to was so nice, but since we found a detergent that was working for us we went ahead and made the switch to Rockin' Green.
Charlie's Soap is a VERY popular soap used by tons of cloth diapering families. I know many people that have had absolutely no problems and love it. Please know that I am not "product bashing" – Charlie Soap is a great product; it just didn't work for us.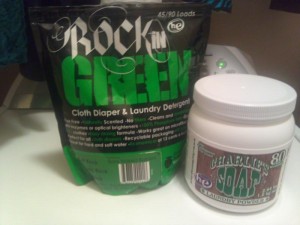 Am I the only one that has had detergent issues when it comes to cleaning cloth diapers? What is your favorite detergent?