Our next Diaper Swap is on January 14th, 2012 from 9am to noon in Overland Park.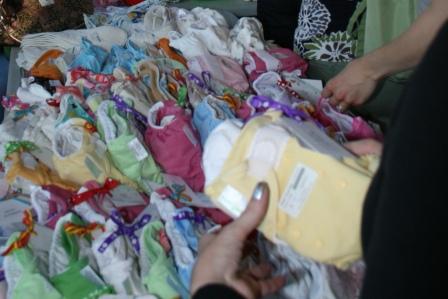 "I was at the swap yesterday and loved it! The sellers as well as the staff were very attentive and Kevin took a few minutes to talk to me about pre-fold sizes and was very helpful. I can't wait for the next one and hope to be a seller someday and get some of my well spent money back! How great is that!"

Kendra, a mama shopping the Oct 2010 Swap
Want to shop the Diaper Swap?
Everyone is welcome!  Think of a giant garage sale of cloth diapers. Every style, brand, size, and shape you can think of. Prices ranging from $40 to free. From 9am-noon, stacks and piles of cloth diapers, wipes, wetbags, and cloth diaper accessories fill the dozen tables at our diaper swaps. Our mom sellers work their tables ready to chat cloth with buyers.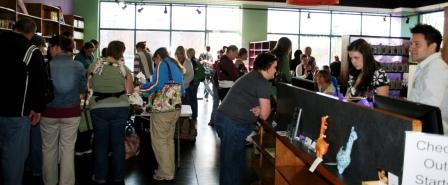 This is a fantastic opportunity for first time users to try different styles while saving money. Or for pro-users to stock up on their favorite stash. Have a friend who is expecting? Great baby gift idea!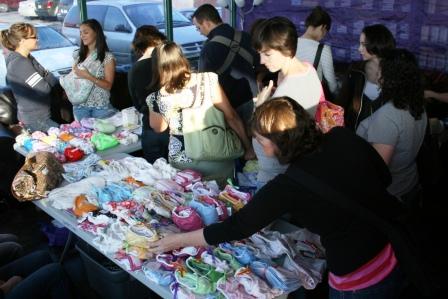 Want to know what used cloth diapers sell for in other parts of the country? Visit diaperswappers.com and search their forums to find other moms selling their stash.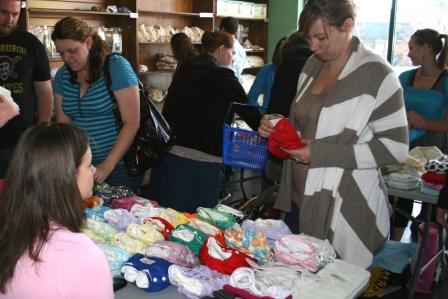 Happybottomus hosts a diaper swap once a trimester at our retail store. For store address and a map to our store click here.  Future dates for our diaper swaps are on our Calendar page.  Diaper swaps are in January, April, July, and October each year.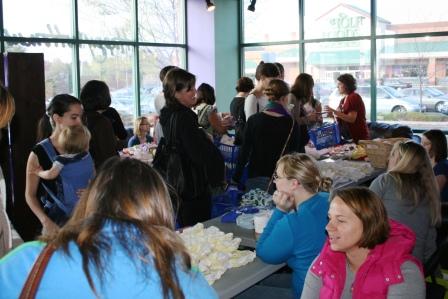 Do you have cloth diapers to sell?
Call or e-mail us to reserve your table and be included on our call list for updates. You must have a minimum of twelve diapers to sell. On the day of the Swap please show up at 8am to set up your items at your table. We will provide blank price tags with barcodes for each item that you are selling. Showing up early will give you time to tag and arrange your items and browse the other sellers tables. Customers will browse the multiple sellers items, select their choices, and check out at the Happybottomus register. At the end of the swap Happybottomus will write each seller a check for the items that were sold that day minus a 15% fee to cover credit card charges and advertising. Please contact us if you have any questions 913-649-2143. Nursing babies are welcome, but we ask that you leave your older children at home as the event is crowded and not fun for children. Exceptions do apply.
We only have space for 18 sellers per swap so please call to reserve your spot. It is unlikely that there will be an opening the week before the swap. We have the dates of the swaps posted on the calendar well in advance and update our facebook page and twitter with reminders. You may not receive a reminder email if you are not on our sellers list.
Items that are directly reusable cloth, cloth diaper, and diaper related are welcome. Diapers, covers, inserts, boosters, liners, wipes, fasteners, wetbags, pail liners, diaper sprayers, detergent, unused wipes solution or rash cream, disposable insets, bioliners, mama pads, mama wetbag, and nursing pads.
Slings, nursing covers, and WAHM items are welcome at the January Swap.
Items beyond the above described are better suited for a consignment sale, consignment shop, garage sale, or thrift store. Diaper bags, toys, clothes, disposable diapers, play blankets, bedding, etc.
If you are a cloth diaper manufacturer and would like to attend our swap you are welcome to attend one swap a year. We have many mama's wanting to resell and the spots fill up quickly. We want to be fair and give as many mamas a chance to sell as possible. Your used as well as unused/newly made items may be sold at the one swap you attend.