When I was pregnant with AL, the original plan was to get a many different brands of cloth diapers and evaluate them, but I got scared and didn't want to spend too much money on cloth diapers not knowing if I would really stick with it. So we bought a few gDiapers to start because I liked the idea of a hybrid.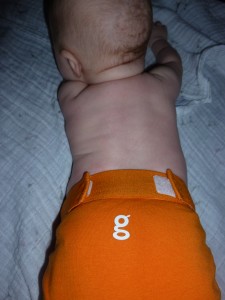 Other Hybrid Options: Flip, GroVia, KissaLuvs, Weehuggers, Best Bottoms & Drybees. Have you heard of another hybrid option that I am missing? Let me know!
Pluses: Covers are easily reusable over several diaper changes, hybrid use allows for cloth inserts or environmentally friendly disposable inserts. Disposable inserts are great for travel and on the go when I don't want to carry around wet diapers. They seem to have less bulk than other cloth diapers. They were easy to find.
Minuses: Sometimes leak if any part of the absorbant insert is not inside the plastic shield. Disposable inserts are a bit pricey. If you are reusing the shell, you have to pull out the wet cloth or disposable insert – not a huge deal but hard to avoid touching a wet insert.
Overall Consensus: We like our gDiapers! The velcro make them easy to put on a wiggly baby and the fact that the covers have a plastic pocket that allows them to be used over several diaper changes cuts down on the number of diapers we have to wash. We have only used the biodegradable inserts a couple times and mainly use cloth inserts with them.
BUT – Even though we love these diapers, we ended up branching out recently to try a few others now that I am more confident in CD – and LOVE it!! We have added Bum Genius 4.0 OS (snaps) and Fuzzibunz OS. We have found that the pocket diapers with snaps are a better fit for our family. I will write more about these later ; )
Cloth Diapering in General: It's so much easier than I imagined! I was really nervous, but after only a few days I was so surprised at just how easy they were to use. I really truly mean it when I say that using cloth has been an awesome experience. It feels good to know that we aren't contributing to the waste in landfills and the soft, brightly colored diapers are so cute on AL. We haven't had a single instance of diaper rash and the best part is that "blow-outs" decreased dramatically… actually, we haven't had to change her outfit due to a dirty diaper since we switched to cloth!
Wipes: We have also been using cloth wipes!! I would have NEVER thought that cloth diapers, much less cloth wipes would be in my future, but here we are… loving it. The cloth wipes seem easier when you are doing cloth diapers because it can all be thrown in the same bin vs. trying to find a trash can for wipes after you have taken care of a dirty cloth diaper. I bought plain white baby washcloths and use a simple spray bottle of water. Yup – water! It's that easy. We used to use a wipe solution that I made, but a friend suggested I switch to using water because the oil that was in the wipe solution could mess with the absorption of the diapers. I spray the water on the washcloth or directly on her bum. Easy!
One More Quick Tip: The thought of actually leaving the house with AL in a cloth diaper frightened the bageebiz out of me. Again, I was pleasantly surprised how easy it was, but I admit that things got SO much easier once I started using a wet bag. We were using zip-locks to store the dirty cloth, but there were a couple reasons why I was not feeling the zip-lock… 1. see through = gag reflex for myself & friends 2. throwing away the zip-locks after unloading the dirty diapers each time seemed like a waste of money and back tracking my green efforts. Now with a wet bag I just throw the whole thing in the wash and don't even touch the dirty diapers – perfect!
I would love to hear about your experience with hybrids!
Next up – Pocket Diapers