Whether you are hitting the beach or taking a dip in the pool, your baby's swim wear is going to be a concern.  Making the choice to use cloth rather than disposable diapers can make summer fun a little tricky.  Although some cloth users do choose to use disposable swim diapers, there are actually a lot of good reusable options that can make playing with your water baby carefree.
The first choice for swim diapers will be a diaper that is designated for that purpose.  Many cloth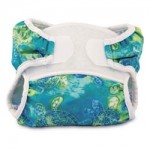 diaper companies offer diapers made specifically for swimming.  These diapers will be very similar to a traditional diaper besides that they usually have breathable cover so that water can flow in and out but soils will stay in.  These diapers do not have an internal soaker system and more resemble a cover.  Bummis and Apple Cheeks are favorites of mine.  The Bummis swim diaper comes in adorable prints and has a mesh lining and cotton outer.  Other swim brands include Monkey Doodlez and Kushies and Imse Vimse.
If you are not looking to invest in a swim diaper there are ways to make the diapers you have function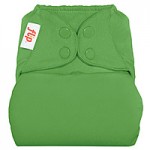 as a swim diaper.  Pocket diapers can be made into swim diapers by removing the insert.  Covers are a great choice, just don't use any absorbent inserts and you have a make shift swim diapers.  It is suggested that you should use a diaper that is already past its warranty and not use it as a regular diaper again if you will be in chlorinated water.  I recently used a flip cover at the beach, we had not planned on getting in the water but my son insisted.  His jeans were completely soaked but when we took off his diaper both the Flip cover and the insert were totally dry.  I could see using a cover for a regular swim diaper very easily.
You have your diapers and you are ready to swim, is there anything else you should know?
Babies burn very easily.  I know that many parents are religious about sunscreen, but even if it
seems cloudy make sure you use it.  When we lived in Hawaii, I couldn't even count the number of extremely sun burned babies I saw.  It is really important to use sunscreen to prevent melanoma and skin disorders.  I carry a small stick of sunscreen in my purse just in case we end up being outside longer than expected, I have it on hand.
Skin isn't the only thing that can burn.  Eyes are very sensitive to sun exposure.  It may be difficult to keep a pair of sunglasses on your little one, but if you can provide a hat or shade it will save you the frustration eye issues later in their lives.
Water, Water, Water!  Drink plenty of liquids.  If you are breastfeeding make sure that you are well hydrated.  It doesn't take long for heat and humidity to rob your body of its hydro resources.  Children do not adequately sweat.  This means that they need to stay very hydrated to keep from suffering heat exhaustion.
If you are concerened that you are or your child has suffered from heat related injury these are the signs to look for:
Skin is flushed, red and dry
Little or no sweating
Deep breathing
Dizziness, headache, and/or fatigue
Less urine is produced, of a dark yellowish color
Loss of consciousness
What should you do?
Remove child to cool area
Cool child in a bath and encourage water consumption
If you are extremely concened call your doctor.
Many of these issues can be resolved by making sure that your child is hydrated, ice pops make perfect hyrdators and kids love them!  This seems self-explanatory, but never leave children alone with water,it only takes two inches to drown.  Make sure that you express this point to any babysitters you may be having over the summer as well.
Have Fun!  If you have any other sun and swim suggestions leave them as comments below!
(Heat info provided by the Mayo Clinic find out more here)