What is the new thing in the cloth diapering world?  Well it isn't actually a diaper at all.  Trainers have hit the market and just about every big name company has released one recently.  It is never to early to beginning potty learning.  Many moms choose to EC, which is elimination communication, from birth.  Basically ECing means you read your baby's signs to tell you when they have to go, you would then either direct them to the potty or hold them over it.  Even if you don't EC, and you are nearing that time when your little one is ready to leave diapers behind, you have lots of options for environmentally friendly trainer options.  Here are some of the front runners.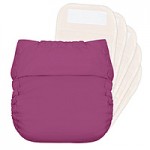 Flip Training System:  Created by the makers of Bumgenius and recently released the training system by Flip has been getting great reviews.  Composed of a PUL pull on and snap style cover with interchangeable organic cotton pads, this set is already everything you need in a trainer.  Each set includes 3 soaker pads(the introductory special comes with 5 pads), the pads aplix in which keeps them from sliding around as your toddler pulls them up and down.  The Flip trainer retails for 24.95, is one size and comes in all your favorite Bumgenius colors as well as the new Genius prints, waterproof.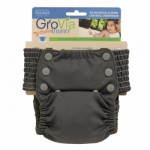 GroVia My Choice Trainers: offer interchangeable sideflex panels that make pulling up and down a stretchy breeze.  These are similar to a pocket trainer in that they allow stuffing for extra absorbency.  rather than a stay dry inner they feature GroCool fabric which is like an athletic wicking material.  The My Choice Trainer is 18.99, it is one size, waterproof.
Trickle Free Trainers by Fuzzi Bunz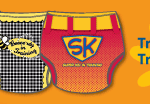 The Trickle Free trainer is a pocket trainer with side snaps and a minky inner.  The minky allows the child to feel wetness but is still easy to clean when messes happen.  This is a sized trainer and retails at 21.95, waterproof.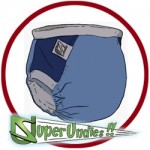 Super Undies: Super Undies are a cute alternative to disposable training pants.  Super undies are pull on and come in 12 fun hero colors.  They have light absorbency from micro terry in the core.  Super Undies are sized and retail for 19.95, waterproof.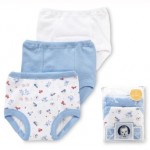 Classic Gerber Trainers:  Gerber training pants have been used for generations.  They look and feel just like underwear but have an area of light absorbency on the wet zone.  There is nothing fancy about these trainers but they are still a favorite.  These are generally sold in sized 3 packs, in white, boy, or girl prints.  9.99 for a pack, these are not waterproof, but Gerber does offer a pull on cover if needed.
Why Use Cloth Trainers?
I am always sad to see parents wasting money on pull ups and disposable trainers.  If there was ever an incentive to use cloth it would be now.  Disposable training pants run about $20 a pack.  At about 60 trainers per pack you could easily go through a package in two weeks or less.  If your child learns right away it may not be an issue.  However if you end up using them for several months you could be spending upwards of $200.  Buying 2-3 Flip trainers or a few packages of Gerber trainers would dramatically reduce the cost of potty learning and stop the waste build up.  These are just a few of the brands who have come out with trainers, there are many many more.  You can find just what you are looking for online or at your local cloth store.  Potty Learning is a brand new adventure for you both, and it pays to be prepared with the right accessories.