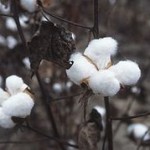 Cotton, it is one of the most used and most loved of textiles in America and around the world.  Almost any tag you look at will have the word cotton or cotton blend on it.  Although cotton has gotten a bad reputation in the past it is now regarded as one of the safest and most Earth friendly of fabrics.  Organic cotton is easy to find which makes being green easier as well.  In the modern world of cloth diapering some parents have chosen to go back to basics and make cotton a cornerstone of their cloth diapering routine.
If you are wondering whether cotton may be the answer to your needs there are some important things to know, like what is the difference between organic cotton and regular cotton?  Is cotton really good for the Earth?   Are there special washing instructions or can I just wash it like my clothes?  Hopefully I will be able to address all those concerns.
First off what is organic cotton?  According to the Organic Trade Commission "Organic cotton is grown using methods and materials that have a low impact on the environment. Organic production systems replenish and maintain soil fertility, reduce the use of toxic and persistent pesticides and fertilizers, and build biologically diverse agriculture. Third-party certification organizations verify that organic producers use only methods and materials allowed in organic production. Organic cotton is grown without the use of toxic and persistent pesticides and synthetic fertilizers. In addition, federal regulations prohibit the use of genetically engineered seed for organic farming. All cotton sold as organic in the United States must meet strict federal regulations covering how the cotton is grown." (OTA)  That sounds like it should be a good choice, but organic cotton is markedly more expensive than regular cotton.  So what is the difference?
The main difference is in how they are farmed.  Traditional or conventional cotton can be genetically modified and will most likely have been grown using pesticides and chemical fertilizers.  The cotton is then treated in extremely hot water to attempt to strip these chemicals away, later it may be bleached for whitening.  Organic cotton, as stated above should be produced chemical free and will have the benefit of natural coloring.  This is not to say that conventional cotton is bad but just not as eco-friendly as organic.  But even traditional cotton has advantages over synthetic or polyester fibers when it comes to chemical interference.
Cotton is one of the easiest cloth options to care for.  You can use just about any detergent and even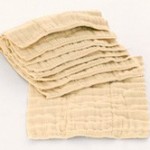 softener without any real issues.  And because a cotton prefold or insert is only around $2-$10 you won't have to worry about making a mistake and ruining your diapers, they can be easily replaced.  Some parents do discover that their child is sensitive to wetness.  Because natural fibers won't provide a stay dry feel you may find that you need to add a fleece liner or natural silk liner if this becomes a problem.
Prefolds and flats have long been the economical diapering choice, but now they can be the environmentally responsible choice as well.  If you are looking to round out your stash of pockets or All in Ones., think about trying out a cotton choice.  If prefold and pins are not to your liking, many companies now offer cotton inners to your favorite diapers, like the Bumgenius Elemental, Gro-via, or the Blueberry Simplex.  You can even stuff pockets with prefolds if you have microfiber smell issues or would just like a simpler choice.
In recent months I have become absolutely enamored with the ease of cotton.  I learned to pin prefolds, stuff my pockets with prefolds, and use cotton fitteds.  It is easy to take care of and in most cases they dry very quickly.  I have gone crazy for cotton, and it feels pretty good.