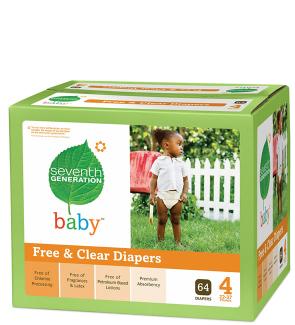 It is an average day I walk out to my mailbox hoping to see some magical fluffy mail but knowing I haven't ordered anything.  I pull out the mail and see that amongst all the junk ads and coupon fliers there is a nice little envelope addressed to me.  I open it up and smile as cute little baby sayings announce that I was invited to a baby shower.  Yeah! I love baby showers.  Sure I have played all the games a hundred times, but they are still fun.  I scan the invite and then stop where I am standing.  The dreaded line that every cloth diapering mom cringes at.  "Huggies and Pampers are greatly appreciated!" For most people there is nothing alarming about that sentence but if you have gone a year or more without shelling out a penny for disposable diapers, and have made it your mission in life to make sure everyone knows how full of chemicals they are, well then that little sentence causes a bit of a dilemma.
So what do you do?  You have a few options when dealing with this issue.  All of them are acceptable but will garner varying degrees of reactions from the future parents and other guests.  Your choices are:
1.Just buy the disposables.  It is so hard to do.  I just went through this.  And the whole time I was thinking I could have bought a cute cloth diaper with this.  But I knew the parents (my little brother) and knew they wouldn't be able to keep up with cloth even if I gave it to them.  So to save everyone some frustration I pulled out the old wallet and bought a box of sposies.  Remember there are a few eco friendly brands now too.
2.Mixed Gift. My friend was interested in cloth but kept going back and forth on it.  I didn't want to get her a bunch of cloth diapers that wouldn't be used.  So I gave her two cloth diapers and some disposables.  This is a great idea if you just want to open the idea of cloth.  Everyone at her shower had tons of questions and I was able to talk about cloth diapers a bit.  It worked out and now she can try them without any serious obligation.  My recommendations for this is a Flip with cloth insert and a pack of flip disposable inserts.  Best of both worlds.
3.Ignore it all.  Just don't buy any kind of diapers.  This may be difficult as I know some people are having what is called a diaper party now.  But new parents will be grateful for any gift, and you could always bring a gift card to if you felt obligated or awkward about not bringing diapers.
So there are your options for what to do when invited, but what do you do when the shoe is on the other foot.  I find myself in that position now.  How do you explain that you don't use disposable diapers?  And what do you do when you get them?
It is a great idea to register at a cloth diaper store and include that info on the invitation, even if no one actually buys anything from there they may get curious and go check it out, either way they will learn that you prefer cloth.  You could also include a line on your invite that says something like "(Names Here)want to keep the earth green for the next generation, so they are using Bumgenius Cloth Diapers."  If you do get some disposables despite your best efforts just smile and thank the gift giver.  You can either return them later and get something else or you may decide to keep them for emergencies.  I never thought that whether or not to give or get disposable diapers would ever be an issue in my life.  But over and over I see this question asked on forums.  The above seem to be the best answers on what to do.  If you have any other ideas please leave them below.