We just celebrated our first baby's first birthday. How did one year happen so fast? We started to collect things for her "You Are My Sunshine" themed birthday party around four months ago… Which I think was the key to finding good deals and throwing a cost effective party. We kept her party small with an intimate group of family and a few friends. AL could have cared less if we spend $5 on her party or $500. Birthdays are about feeling special, and you can definitely do that on any budget! Here are some ideas to help you celebrate at your house.
Invitations:
Save money by making your own invites! We decorated the front of AL's invitation with a simple sun and put all the information on the back. I loved that we could customize her invites to match the party theme. I found a cute "You Are My Sunshine" stamp for real cheap on etsy.com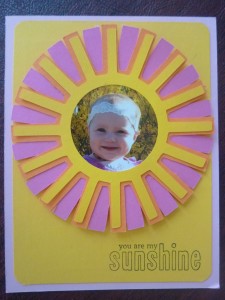 Cloth Pennant Banner:
A fun and quick way to add a little color to your festivities. I made this in one night and it was my first sewing project that I have done in years. There are many places around town to find a good deal on fabric. I used bias tape to attach the pendants. Bias tape comes in tons of different colors or you could even make your own if you are up for it.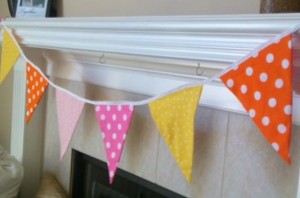 Party Favors:
I made the party favors with extra spoons from the party utensils, Lemon Heads, ribbon, scrap paper and cellophane bags. The tags read, "A Spoonful of Sunshine". I put an old serving tray on top of a TV tray and the threw a piece of fabric over it (that I found on sale!). Not the most healthiest option for party favors, but I think they look cute.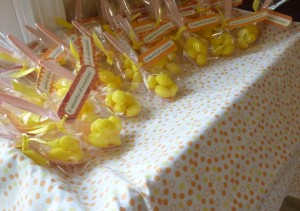 Paper "Happy Birthday" Banner:
This was also a fairly quick project that I whipped up in one night (thanks to a little help from my mom). There are three layers to each rectangle. The base rectangle (cream color) measures 4×4.5 inches. Then, I alternated a solid color behind each one that was just a bit bigger to frame it. The letters are also alternated with a decorative scrapbook paper. They were hole-punched, and then I used some yellow ribbon to attach them all together. The ribbon held them in place perfectly!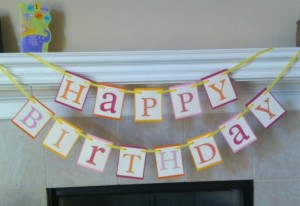 Food:
Make your own food and cake… or have some of your really amazing friends and family members help! We made a round lemon cake to look like the sun. I found an "A" wedding topper on sale that I painted pink because I am not good at decorating cakes. We had cupcake toppers that we made ourselves with toothpicks, paper and a little glue.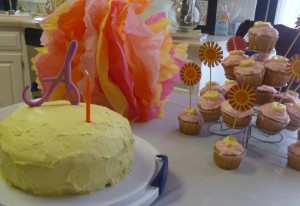 We tried to do our part and save on garbage by using mason jars for cups. Since we can our own pears from the tree in our backyard, we had plenty already on hand. We added a lemon slice and a straw to make it look festive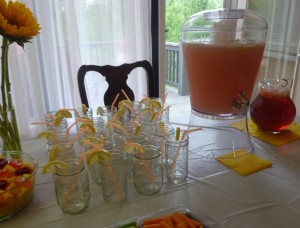 I found a really cute sun shaped cookie cutter on sale at Hobby Lobby that I used to make jello jigglers. I cannot remember the last time I enjoyed a jello jiggler… 8 years old maybe? They were more fun to make than to eat. We put them on top of orange and yellow fruit: mango, pineapple and cantaloupe.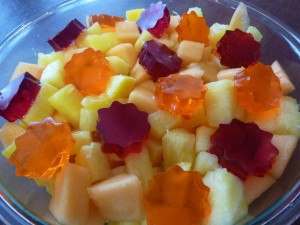 Other Easy Peasy Decorations: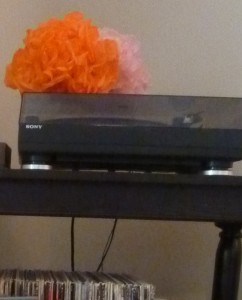 Tissue Paper Flowers:
1. layer pieces of tissue paper
2. fold acordian style (round each end for a fun flowery look)
3. tie in the middle and unfold
Homemade Vase: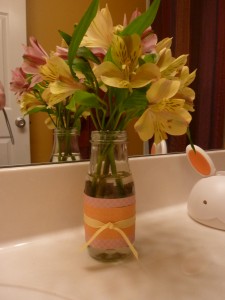 1. clean any size glass bottle
3. decorate with a few different sizes/colors of paper
4. tie a coordinating piece of ribbon around it
Paper Party Hats: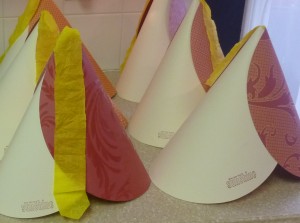 1. cut out two 10 inch circles
2. glue together
3. decorate as you choose. I would also highly recommend some type of a string or ribbon to tie the hat to your head. These made for some great pictures at the party!