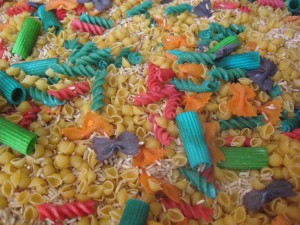 Dying pasta is an easy activity that can be done with your children.  Aside from it being fun to do in itself, there are so many things you can do with the colored pasta too. It can be added to sensory bins, glued on to art projects, laced on to yarn to make necklaces or just sorted by color or shape into muffin tins.  We also like to use it to work on counting skills.
Ingredients:
Pasta of various shapes
Food Coloring
Zip-top baggies (I used quart and gallon sized)
Rubbing Alcohol
Something to dry the pasta on (I used old newspaper, but paper towels or even fabric that you don't mind getting dyed would work too.)
Directions:
Add some pasta to the zip-top baggie
Cover with rubbing alcohol (about 1/2 cup per baggie)
Add 8 to 12 drops of food coloring
Seal baggies and for extra safety place 2-3 quart baggies into a gallon sized bag
SHAKE!  This is where the kids can have a great time!
Let sit for a few hours
Pour out the alcohol and drain the pasta, keeping the color separate
Let dry over night
HAVE FUN!