If you struggled with your PUL during those blistering summer months, or found that your little darling was excessively red when you tried out natural prefolds or fitteds, the problem may have been easily solved by a wonderful little fabric called Fleece.  Fleece, yes, it isn't just for pullovers, snugglers, and slippers anymore, fleece has made a big impact on the cloth diapering world.  Because of its stay dry reputation and ability to be used as a cover as well, Fleece is becoming the answer to many a parent's diapering dilemmas.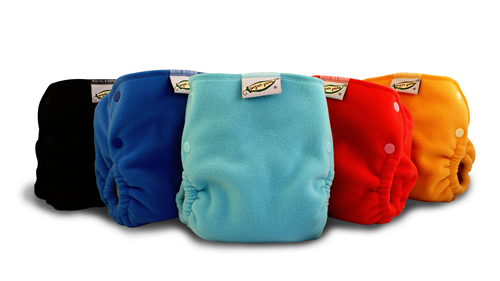 What is Fleece and how exactly did it end up in diapers?
Polar Fleece was manufactured by Malden Mills in the 1970′s and found its place in the diapering world once pockets caught on. Fleece had also been used as a diaper liner before the big pocket rage.  Polar Fleece is thick and is what you would see a cover or soaker being made from.  Liners and pocket inners are typically made from micro fleece which allows more moisture to soak through giving the stay dry effect.
Fleece wicks moisture from one fabric to another, basically if it is being used as a liner the moisture will seep through and go into the absorbent layer leaving the fleece feeling dry.  When being used as a cover fleece holds the moisture in only wicking enough that it can spread and then evaporate into the air, leaving the outside feeling dry.  Although fleece is 100% polyester and maybe not a good choice for those wanting an all natural diaper stash, it can play as a middle ground for those who would like to have a more breathable option, but aren't comfortable with wool.  There are a few companies that make an eco fleece if you want to go that route as well.
Why should you try fleece?
Fleece can be great for hot or cold weather since it is breathable.  Fleece is very easy to take care of.  Although I do love the look and feel of wool, sometimes it can be a bit high maintenance. Fleece, on the other hand is easily cared for. You can simply toss it into the wash with your other diapers.  Fleece also drys very quickly because of its wicking properties, so you could hang dry them rather than placing in the dryer, although the dryer does not harm them.
Price-wise, fleece is amazingly economical.  You can easily find adorable handmade fleece soakers on etsy or other sites for between $5-$10.  Also, fleece stays looking new.  Another great thing about fleece is that if you have any talent at sewing you could make your own fleece soakers out of recycled fleece jackets or buy polar fleece at the fabric store.  Even the name brand fleece diaper covers and soakers are reasonably priced.  Fleece works great with fitteds, flats, or prefolds.  You can make fleece liners just by cutting up a fleece blanket or fabric.
The fit of fleece is very nice.  Although it will be bulkier than PUL it is a good deal less bulky than wool.  Most fleece soakers are sized which makes them trim, but the ones that do happen to be one-size wraps are not overly thick and can make a good choice for someone wanting to try out fleece.  As a quick note you can also use fleece shorts or pants as a diaper cover as long as it is good quality fleece.  I have used fleece pants just purchased at a department store and they did fine overnight.  Fleece All-in-Twos, Pockets, and All-in-Ones are becoming more prevalent as well as making fleece available to any cloth diaperer's specifications.  I love the Sugar Peas fleece cover with snap-in liners, but they also make a fitted.  A good fleece wrap can can also be used by simply trifolding a prefold or padfolding a flat making it as easy to use as PUL covers.
Fleece can be that great diaper choice if you need something breathable and economic or just want to try out something new.