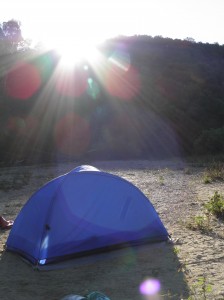 Our family loves the outdoors…camping, fishing, hiking, rock-climbing (well, we haven't done this since the girls were born…maybe again someday), canoeing, kayaking, swimming…you name it we like it! We have a goal of visiting all the National Parks – we have made it to six so far! I am passionate about several things and one of them is getting kiddos outdoors exploring in God's creation, so once spring time rolls around we are ready to be outside.
We went camping with "sunshine" for the first time when she was 2 months old and are looking forward to our first camping trip with "little bird" in a few short weeks. People thought we were insane for taking our baby camping at such a young age and I just thought they were insane for thinking that we were insane! My husband and I both grew up camping so that is what we are used to and babies really don't need anything more than arms to be held in and mama's milk, so camping is a perfect cheap and fun vacation. There are so many benefits to spending time in the great outdoors with your family too…stress relief, being unplugged from technology, time to talk, and little kids (and big kids) have a chance to explore using their imagination and find ways to play with sticks, acorns, rocks and all kinds of fun stuff!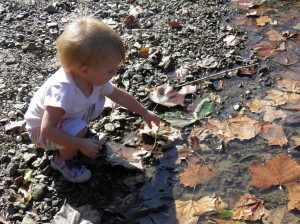 I have found that camping with kiddos has increased my appreciation for many of those small things that I just pass up most days (kids are such good teachers), especially when I take time to enjoy the journey with them! Such as…taking time to stop and pick a dandelion (it's not a weed to them…it's "yeddow purddee" as my daughter says), jump in a puddle or wade in a stream, listen for the birds & insects, discovering the millions of stars, skipping rocks…the possibilities are endless.   Whether you were outdoorsy people before you had kids or not at all it is possible to enjoy all those adventures with your little ones and have fun while doing it!
Since we are going camping in a few short weeks I've started preparing. The following are things that have helped us over the last couple years when camping with a little one.
These are our must-haves, beyond mama's milk and arms:
Hat, sunscreen, bug repellent, warms clothes/pj's for chilly nights, smores makins' (yes this is a must have), sleeping bags & blankets to make one big family bed in your tent, life jacket that fits really well, diapers (we still cloth diaper if we are camping near laundry facilites), swim diapers (or we just use a pocket diaper without an insert and find that it works really well to contain what it needs to and doesn't bring on lots of water), first aid kit, flashlight, rain gear, a way to get clean water (filtering it yourself or access to water at the campground), snacks, and a good campsite. (I will share some local areas to camp in another post).
These is our nice to have list…not necessary, but makes the trip easier:
Babywearing Gear- Great for exploring, hiking or just walking around the campsite. I have used and we like the Beco, Ergo, or a wrap for the wee ones. Once the kiddos get older we use a framed carrier if we are going to be going on a longer hike. I suggest trying them on before buying…Happybottomus has a great selection of carriers!

Bumbo Seat – a lap always works, but for the instances when you need a place to put your kiddo down for a little while the bumbo is great for around the campsite and especially while eating.
A bigger tent…we have a very small backpacking tent…it is small & cozy and we won't ever get rid of it, because it is what we honeymooned in. However, once "sunshine" got big enough to crawl or we experienced our first real downpour and had to be in the tent for several hours we realized a bigger tent would be more comfy. We still use the smaller tent if we are canoeing or backpacking with the kiddos, but for car camping trips a big tent is helpful.
Hammock…it's relaxing, fun and who doesn't enjoy a lazy afternoon snuggled up with your kiddo or hubby! One of our kiddos likes to fall asleep while rocking, so this is our outdoor rocker.
Camping with an infant, baby or toddler is totally do-able…just remember it will look different than before you had kids, but the memories you will make as a family will be unforgettable! By planning successful, enjoyable camping trips when your children are young will ensure that they will have a lifetime of outdoor adventures ahead of them.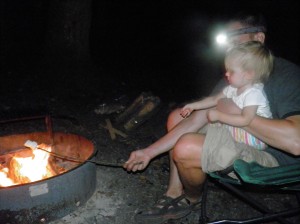 Are you a camping family? I always love meeting other families that love sharing the outdoors with their kiddos. What are some tips you have to share?
If you aren't a camping family…I would love to encourage you that you CAN DO IT…maybe start out by camping in your backyard! Let me know if you have any questions. There will be more "Get Outdoors!" post's to come.