Everyone is still asleep and our house is extremely quite (this is a rare occurence…as I'm sure it is for most of you), so I thought I would take this opportunity to introduce myself and tell you how excited I am to be a part of this blog  – to share my experience and journey as a mama who loves her job as a wife to my best friend and a mommy of two girls under two!
You will often find me writing about cloth diapering, babywearing, sleeping with my babies, parenting with love & respect, trying to live with less "stuff", living frugally (I love a great deal…especially when it's free), being artsy/crafty, loving and living for Jesus, serving in our community, foster care (we are hoping to be a foster family one day soon…if all goes as planned this fall),  and anything all natural – birth, breastfeeding, being outdoors, eating local/organic and natural health choices!
People comment when I'm out and about how I have my hands full with a 23 month old and 3 month old and what I sometimes say in response is I have my "hands full of joy"! Though I'm sure sometimes it may look a little chaotic on the outside when I'm carrying a 3 month old on my front side who likes to coo & jabber and a toddler who is busy, busy, busy. Cloth diapering, babywearing, breastfeeding, etc. makes my life so much easier & enjoyable being a mom of two little ones and it allows me more time with them, saves our family money….I could go on and on with all the positives! I'm looking forward to sharing all those positives with you all and learning from you and your family!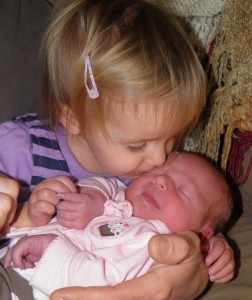 Here is who occupies my hands most days & they sure do bring lots of joy into our lives! This was taken the day of our second daughters birth…a home waterbirth…looking forward to sharing our journey in making this choice for our family and her birth story soon!
Well, I can hear one of the girls waking…so I'm off to go be mommy and enjoy this beautiful sunshine. What are you going to do to enjoy this sunshine today? I think we are going to go dig in the dirt and finish planting flowers that we started yesterday, hoping to make it to the farmers market, definitley going to play outside and we are going to go pick up a free wooden playset (I love a great deal) for our backyard!