"Remember this, for it is as true and true gets: Your body is not a lemon. You are not a machine. The Creator is not a careless mechanic. Human female bodies have the same potential to give birth well as aardvarks, lions, rhinoceri, elephants, moose, and water buffalo. Even if it has not been your habit throughout your life so far, I recommend that you learn to think positively about your body."
— Ina May Gaskin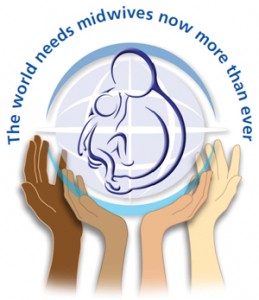 May 5th was International Day of the Midwife and the whole month of May is International Doula month. Have you thanked your midwife and doula for their loving care and support?
Ohhh, how I love the quote above and think every women should be given this advice…whether they have chosen a hospital birth, birth center birth or homebirth. These wise words were spoken by Ina May Gaskin known as the "godmother of modern midwifery". Did you know that the word midwife is derived from Middle English and Old English…mid meaning "with" and wif meaning "women"…"with women"! I am so thankful that there are caring, supportive, loving women who care so much about the health of women and babies that they are "with women" throughout their preganancy, birth and beyond. Midwives and doula's inspire women to reduce the fear of childbirth by regaining confidence in their bodies and assuring them – your body still works!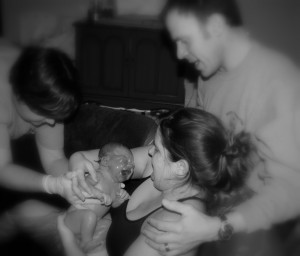 I had the privilage of having an all-natural hospital birth with the support of a doula for "Sunshines" birth and a home waterbirth with a midwife for "Little Birds" birth! I can hands down say that this was one of the best decisions my husband and I made for our babies. It was a blessing to be in the care of women who felt that birth is a completely natural normal process and their priority was a healthy baby and healthy mama. "Little Bird" is laying here asleep and as I watch those precious smiles as she is dreaming sweet dreams…I think about the respectful care that she especially received before she was born being under the care of a midwife. I am brought to tears in gratitude that she entered this world so peacefully and at the same time saddened that the US is in a Maternity-Care Crisis. According to the Centers for Disease Control, a woman giving birth today is more than twice as likely to die in childbirth as her mother was…this is unacceptable in my opinion! There is a wonderful article, "Doctors Need Midwives: Ina May Gaskin on the Maternity-Care Crisis" addressing this issue and I would encourage all to read it.
I am in awe of the dedication of midwives and personalized support they give…through educating mom's and dad's, spending all the time that is needed to counsel and answer questions and talk through fears/concerns/triumphs, prenatal care that is better than you can receive anywhere, continous hands-on assistance through labor & delivery and loving postpartum care. If you aren't familiar with the Midwives Model of Care here is what it includes:
Monitoring the physical, psychological, and social well-being of the mother throughout the childbearing cycle

Providing the mother with individualized education, counseling, and prenatal care, continuous hands-on assistance during labor and delivery, and postpartum support

Minimizing technological interventions

Identifying and referring women who require obstetrical attention

And, I have just had to add…soooo much more!
So, thank you to all the wonderful Midwives and Doula's who care enough to apply this women-centered model of care that has been proven to reduce the incidence of birth injury, trauma and cesarean section. We are grateful in a city of our size to have so many wonderful midwives and doula's. You can find a list of birthing professionals by clicking here.
We would love to hear how a midwife or doula has impacted your life! Please share a tribute, your birth story or a special memory. Don't forget to go and thank your midwife or doula today!