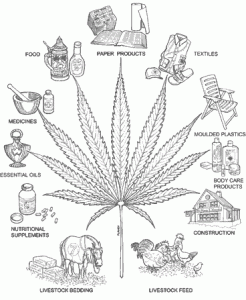 When I first started to cloth diaper I came across a website proclaiming the magic of hemp.  I must say that I was completely confused.  Wasn't hemp that stuff I made macramé bracelets out of in the eighth grade?  How could it possibly be used to create a diaper?  I had visions of little braided diapers or rough raffia like material.  I was interested in Hemp as a fabric and my curiosity moved me to find out more.  I went to my local cloth diapering store, and found a Joey Bunz premium insert.  It was soft and thin, nothing like I had imagined.  It became my first purchase at Happybottomus, and now about ten months later it still performs and looks amazing.
In case you are considering this Hemp idea, let me tell you a little bit about it.  First off, in my opinion, there is nothing as absorbent as hemp.  A very thin piece of hemp can compete with double stuffed microfiber any day.  Because it is so absorbent it is also very trim.  Hemp does take some time to become fully ready but after about 8 washes it is ready to go and only becomes softer and more leak resistant as time goes on.  You can find hemp as inner soaker pads, lining, and even fitteds completely made from hemp materials.  Hemp is sometimes mixed with cotton in a blend but it is very common to find it by itself.
Some cloth diapering brands that carry hemp products include Happy Heinys, Rumparooz, Fuzzi Bunz, Best Bottoms, and many other great custom WAHM products now offer a choice of hemp materials.  I feel the need to single out Baby Kicks, because they have taken the hemp cloth diaper industry and really made something out of it.  Their Joey Bunz inserts are top notch.  They are so trim and durable.  I have heard of people using the same hemp inserts and prefolds for years and I can believe it.  Baby Kicks also has a very popular fitted diaper, and has recently released a pocket.  They are an innovative company and should be given praise for their ingenuity.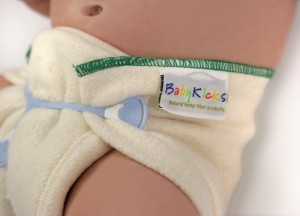 So what makes hemp so great?  Hemp is a very strong and durable fabric.  It will stand the test of time.  It is purportedly as much as three times stronger than cotton.  If you decide to invest in hemp be assured that you will certainly get your money's worth.  Hemp is also antimicrobial which means it will fight off any bacteria that may try to lurk in your cloth diapers.
Hemp is also a breathable natural product.  Like cotton it allows airflow.  Because hemp is also easy to grow and requires no pesticides or chemicals to protect it, it is also a good choice for those wishing to go organic.  Hemp is also cheaper to grow and manufacture into cloth than other organic fibers.  This means great savings to consumers.
Did you know that hemp is used in much more than just fabrics and textiles?  Hemp is now being found in shampoo, lotion, shoes, protein bars and, shakes.  Hemp is high in essential fats and acids so even though it is technically a weed it is making a comeback as a health food.
I would wholeheartedly endorse any hemp products.  It is still important to be aware of the manufacturing process of anything you buy, but in most cases hemp is fine.  It is a great material and a hearty little plant that is changing the textile market one diaper at a time.
(A little factoid about hemp: Thomas Jefferson actually penned the draft for the Declaration of Independence on Hemp paper…how cool is that?  Who knew our founding fathers were so Earth-conscious)
(Photo:Baby Kicks 2011)