I remember when I first found out that I was expecting my mind instantly went to what kind of birth I wanted to have, I spent a few days researching birthing centers, bringing up midwife bios, and refreshing myself on all the nuances of birth.  I thought I had found the perfect place to have my baby, I prayed that there would be an opening with the midwife I wanted, and went to consult our insurance.  All my fluffy holistic birth plans went out the window.  As many might find insurance companies have networks, and if the place you want isn't in that network, then unless you can pay out of pocket, you are going to have to find another choice.  My network was pretty limited and I eventually had to choose a hospital, and an OB.  By then I was just happy to be seeing someone, but I knew that I really needed to have my head in the game if I wanted the birth I was envisioning.
Flash forward to my first appointment, once all the uncomfortable bits were over, my doctor took out a checklist to ask me about previous pregnancies and my plans for this birth.  "What is your birth plan?" She asked.  "I would really like to go natural." I say.  She wrote natural on her notes, and then asked about my plans for a natural birth.  "I don't know." I say feeling really silly.  It hit me at that moment that beyond wanting a natural birth I had no idea what that even meant.  Did I want candles burning and drums being beaten, or was i just going to lay there and scream until the baby was born, reflexology or hypnosis, I had no clue.  My doctor reassured me that I had time to decide and we moved on.  Leaving the office I knew that I needed to get a plan.  Not a plan for the hospital, or the OB, but a plan for me, what I would take and what I wouldn't.  I insisted on going straight to the bookstore and luckily found a great book.  It is called Home birth in the Hospital, by Dr. Stacey Kerr.  Dr Kerr had two home births herself and found a passion for bringing that same environment into the hospital.  This book was just what I needed, it has a wonderful mix of natural birth scenarios while still allowing modern medical technology to have its place when needed.  Home birth in the Hospital gave me hope that the birth I had dreamed about was still possible.  I really recommend it to anyone who is expecting a child.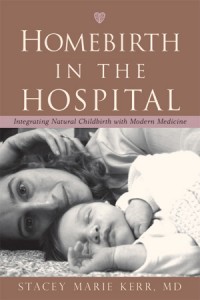 Planning the birth was much easier once I knew what I wanted.  And I feel confident that when I go into my next appointment and am asked what my birth plan is I will have an answer.  "How do you plan an integrative childbirth?  It is essential to make plans ahead of time because once you go into labor your ability to control the situation is severely limited. Throughout your labor and delivery you want to feel safe, without having to negotiate the details. You can not control the natural labor process but you can control the planning and the choices you make. You have that right, and the right to deliver your child without disappointment or regrets." (Dr. Stacy Kerr) Kerr makes a wonderful point of being able to roll with whatever happens but still sticking firm to your own beliefs.
So what did I choose?  A friend of mine recently had a Hypnobabies birth and said it was amazing.  She offered me her cds and materials and I eagerly accepted, even though I was pretty skeptical.  I have been listening to the cds for about a week and I have to say that much of my anxiety about going for a natural birth have vanished. I am excited to see where this program takes me and how well it works come February.  I am also not taking pain medications and am going to deny the IV unless absolutely necessary, I know that all this could change on the big day, but making a plan has given me peace of mind.
Being well informed and knowing that you have the ability to naturally birth your baby is one of the most important steps in the birthing process.  I am really excited to be starting this journey again and know that no matter what ends up happening on Birth Day, that I am making the right decisions for me and my baby.