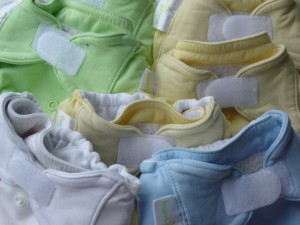 If you are like me, one of the reasons you chose cloth was to save money. Well, starting your cloth stash can be expensive (although obviously cheaper in the long run). Buying new cloth diapers was not in our budget and I really wanted to go with pockets. I had to find a cheaper way. If you know your way around  a sewing machine, you can fix worn-out diapers and make them like new! All it takes is very basic sewing skills and a little patience!

While Bumgenius diapers are great, once the elastic and velcro (if you have applix) is shot, your diaper doesn't work well and requires a little "surgery". I was able to find a bunch of Bumgenius diapers that all needed repair for really cheap. To get started, you will need the following:
Bumgenius repair kits (email contactus@cottonbabies.com with the number of kits you need and your address and they will mail them to you for free)
Sewing machine
Seam ripper
Safety pin
Scissors
100% Polyester thread (so that the diaper doesn't wick- match color of diaper)
Step 1: Turn your diapers inside out.
Step 2: On the sides of the diaper, look at the top and bottom and find the elastic sticking out of the seam. Use your seam ripper and open about 2″ to expose where the bad elastic is sewn down. Do this on both sides and both ends.
Step 3: Cut out of the old elastic.
Step 4: Take a piece of new elastic from the repair kit and sew down one end over where the old elastic was sew down. Do this on both sides.
Step 5: Take the safety pin and pin it on to the end of the elastic and feed it through the casing on the side of the diaper. Pull it through and sew it down where the old elastic was sewn down. Do this on both sides.
Step 6: Turn your diaper right side out and sew the seams back up. (Follow the dotted line were the thread was that you seam ripped. Make sure you do not sew over elastic.)
** FOLLOW THE ABOVE SIX STEPS TO FIX THE BACK ELASTIC IF NEEDED. **
OPTIONAL:
Step 7: Sew the new laundry tabs directly over the old ones.
Step 8: If you have applix, use your seam ripper and remove the old velcro tabs. Take one hook tab and one loop tab and sandwich the diaper directly over where the old velcro was (it will be easy to see where it was). Sew all the way around the new tab. Make sure you place the hook and loop on the correct sides.
Happy sewing! If you have any questions or need help, feel free to ask! Good luck!