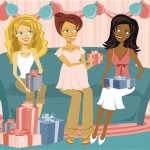 It is my belief that every new baby should be celebrated in some way.  However, if you are on your third or fourth child, or having a baby of the same sex as your first you may feel awkward having a traditional baby shower.  There is no doubt that no matter how many children you have you do need things for each new addition to the family, but many parents feel odd asking for gifts or even expecting them after their first child.  A party however, brings together family and friends, and allows them to be a part of your experience.  If having a shower just isn't your style here are a few ideas to make this pregnancy and birth special in its own way.
1.Night Out with the Girls: Gather a few of your closest friends for dinner at a restaurant.  Splurge on a big desert and maybe go to a movie or other entertainment afterward.  You won't have a lot of time to get together with friends after your little one arrives, and it is nice to take a break from planning central for the evening.
2.Spa Day: Invite a few friends and family to the spa.  Get pampered before the big labor day approcahes, a pedicure may give you the boost you need to keep going.  You will feel refreshed and have time for girl talk.  You can always bring along a small cake and sparkling juice to toast the mommy to be.
3.Blessing Party: Blessing Parties are becoming popular.  Rather than throwing a big shower with games and presents, this style of party is kept low key and is more about welcoming a new soul and encouraging the mother in her new role.  These are especially popular for those who want to celebrate the impending birth of their child but already have children at home.  Similar themes at Blessings are, candles as favors(these can be lit when the baby is born or when notified that the mother is laboring), Quilt blocks made by each guest to be sewn together for the baby later, and in lieu of gifts some request frozen casseroles to take the load of mama once baby is here.
4.Block Party: You may choose to wait until after your little bundle is born to celebrate.  This is the perfect opportunity to have a big barbecue or potluck with friends and family.  Have fun games for the kids like sack races, and a bean toss.  Enjoy showing off your new beauty or handsome little guy.  An added bonus to this is that if people know you will be doing this, and you set a date in advance it may save you having 100 guests at your door the day baby arrives.  Everyone will get cuddle time at the party.
5.Give Back: Make a day to help someone else.  Get your friends and family together to help at a soup kitchen or clean a park.  Plant a tree in honor of your child in your yard and watch it grow alongside your baby.  Finish the day with refreshments.
A little on the subject of gifts: I have never asked for a gift.  In general the only person I even tell if I need something is my mother.  However everyone has a different situation and regardless if it is your first child or fifth you may be in need of some help.  A sensitive way to approach the subject is to inform someone close to you of your needs and allow them to pass it on.  This gives others the opportunity to help with out you needing to ask for it.
There are many choices available for celebrating the birth of your child.  I hope that you will consider my suggestions even if you were not planning on doing anything.  Mothers need the support of family and friends and by inviting them to celebrate with you, you are also inviting them to support you in new journey.