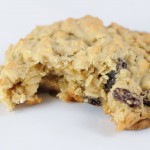 I was having a bit of a sweet tooth today, but didn't really have the ingredients to make anything special.  I looked through my cabinets and saw that I did have the basics to some cookies, but that was about it.  I decided to push away that sweet tooth and clean my kitchen instead, that was when I came across the bottom of the bag crumbles of raisin bran and came up with a great idea.  I baked up some goodness using all my leftover breakfast ingredients and they turned out great.  Here is what I did.
I used the basic oatmeal cookie recipe.  This included:
1cup melted butter or shortening
2 eggs
1.5cups of flour plus 1 tsp baking soda (I used 1.5 cups of pancake mix instead no baking soda)
1 tsp vanilla and some cinnamon
Then I added the raisin bran crumbles and smashed it up in the bag until it was more of a raisin bran powder.  About 1 cup of rice krispies, and 2 packets of maple and brown sugar instant oatmeal, and flax seed.  I put in 1/4 cup of almond milk as well because the dough looked a little thick, this helped a lot.  Because the oatmeal was already flavored I didn't add any sugar/honey, but you could add sweetener if you need it.  You have to eyeball this recipe and play around with the ingredients until you have proper cookie consistency.
Bake for about 10 minutes at 350 degrees.
Take out of the oven and enjoy…an added bonus is that my house now smells like Christmas, and I get to feel like a super baker, even though it was easy peasy.
If you want uniform cookies then roll the dough in wax paper or plastic wrap into a log shape, and refrigerate for 1 hr.  When you unwrap the dough you can slice it for even sized cookies.
This is a great recipe for kids to help with.  My son is just now at the age where he can really help and enjoy it.  This recipe isn't very messy and letting your little one mix up the dry cereal ingredients is fun for them.  These cookies are great for on the go breakfast and taking along on picnics and hikes.  Cookies can be healthy too, depending on what goes into them.  The cookies I made were really no different than what would have gone into a normal breakfast.
Your cookies are open to what you have in your kitchen and your imagination.   Any type of cereal will work, you can add nuts, peanut butter, chocolate chips, dried fruit, it just depends on what you want.