Three years ago when I was pregnant with my son and putting together my baby registry, I knew NOTHING about anything to do with babies. The carrier I registered for ended up being HORRIBLE! After 5 minutes of wearing my son in it, my back and neck started killing me. I sold it and never used a carrier again. I hated it! Now my son is 3 and my baby girl is here and I have my hands full so I decided to research carriers again. I found the Beco Butterfly II- and I am IN LOVE!
One of the things that I love about my Beco is that it evenly distributes the weight of the baby across your back so you can go much longer than 5 minutes carrying your baby. As a person who was in physical therapy because I had such weak back muscles that my shoulder would literally fall out of place, this is extremely important!
I was able to use my Beco almost as soon as I brought my baby home. It comes with a detachable infant insert (unlike many other carriers). The best part… baby girl loves it also and almost instantly falls asleep in it. When she isn't sleeping, she enjoys looking at everything from a new perspective.

Beco baby carriers come in so many adorable prints so you can tote your tot in style! I even came across a website that will "pimp" your carrier in any print you want. I did it the frugal way and pimped my own! What do you think? I LOVE IT!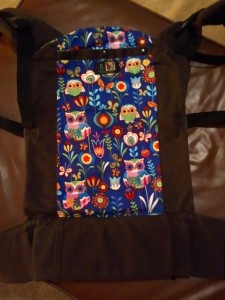 You want to know what the best thing about baby carriers are? You get to have your baby right next to you instead of stuck in a stroller! Not to mention not having to haul a stroller around anymore. Just roll it up and throw it in your diaper bag when you are not using it. Ahhh… simplicity!
If you don't have a carrier yet, starting researching and find the right one for you. I love my Beco Butterfly II and highly recommend it but there are many different types of carriers to choose from. If you aren't sure what type to choose, go in to the Happybottomus store. You can try on different carriers and get a feel for them. Happy Baby Wearing!!