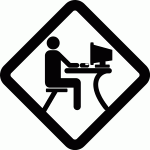 If you have just started cloth diapering or are a cloth pro then you are probably already familiar with what is called a For Sale or Trade(FSOT).  Many diapering forums, sites, and even facebook pages have them now.  You may have also seen listings for diapers and carriers on craigslist and ebay.  Buying used or selling things that you are no longer using or didn't work for you is a wonderful way to make your cloth diaper investment stretch.  Because I use trading and selling forums I am able to cloth diaper our expected baby practically for free after selling my son's diapers.  Buying and selling online can be great, but it can also be a hotbed for scams and mismanagement.  Below are some tips and rules to remember if you are planning on entering the FSOT ring.
Tips for Sellers:
1.Delivery Confirmation!  Always get delivery confirmation.  It doesn't matter if it is a $2 sock get that proof that you sent the package.  This is your safety net if something were to happen to the package in transit.  Without the proof that you did indeed send the product you could be held liable or even scammed yourself.  Without the DC someone could say that they never received their items thus making you have to issue a refund, you will not be able to prove whether they received them or not.  Also the DC makes it possible to track package if it becomes lost in the mail, you have a record of where it is and where it is going.
2.Communication is Key! Keep buyers in the know if something is delaying mailing out their items.  One of the biggest complaints I hear about bad sellers is that the purchaser didn't know what was going on with the sale, they felt out of the loop and that can end you up with negative feedback.
3.Double and triple check the items.  Make sure that things look as good as possible so there is no room for complaints later.
4.Leave the Buyer feedback.  Go ahead and leave a buyer feedback even if you haven't received any from them.  If the sale went well there is no reason not to give them positive feedback.  It may even prompt them to leave good feedback to you.  My very first etsy purchase I didn't leave feedback because I didn't know I was supposed to.  Well six months later I am looking at my own feedback and see I have a neutral, I was confused and realized that it was from the person I hadn't left feedback for.  It is better to ask someone if they were satisfied and if they would leave feedback than to give them negative or neutral because they didn't leave you any.  Okay enough of that, basically always leave honest feedback.
For the Buyer:
1.Ask for delivery confirmation even if it isn't included in the price.  Basically for the same reasons as for the seller.
2.Don't be afraid to ask questions if you feel that it is taking too long or you are unhappy with the items.
3.Read Reviews before purchasing.  Make sure to look over a seller's feedback and reviews on their product before buying it, this is a quick way to spot a scam and save yourself the trouble.
4.Keep up with deadlines.  You must file a paypal dispute within 45 days.  So if you are nearing that date and you have still not been satisfied with the sellers side of the bargain then file a dispute.  That is generally the only way you can be compensated if things go bad.
I haven't given you all this info to scare you out of the market.  99% of the time people will never have a problem and find honest buyers and sellers to be the norm.  But because that 1% does happen you need to protect yourself from pitfalls.  If you are not keen on buying or selling online you can always keep an eye out for local diaper swaps.  Happybottomus has a diaper swap a few times a year, it is a wonderful way to sell off items from your diaper stash as well as pick up some new things you would like to try.  This is a risk free event that anyone can participate in with confidence.  Happy Trading!