I used to silently commiserate with parents who complained that their child was a picky eater.  I felt for them but was happy that my son wasn't among their number.  He would eat anything anywhere.  He would even surprise me by eating things I was certain he wouldn't like, like hummus and beets.  I happily went through meal time stress free and enjoying seeing what my little boy would gobble up next.  Well that all changed when he turned 2.  Suddenly foods he loved he would turn his nose up at.  Things that he had devoured only a month ago would be pushed away.  I said a prayer and accepted the fact that I was now in that ominous club of picky eaters.
There are lots of things you can do for picky eaters.  Dipping sauce is a big winner.  Grazing (which is recommended by Dr. Sears) basically a sample platter of fruit, veggies, cheese, etc. is laid out for your toddler's pleasure.  They can grab a few bites and go back to playing, this actually works incredibly well if you aren't too concerned with having crunched up crackers in your carpet.  If your little one refuses to eat as some kids do, making them protein enriched smoothies to drink throughout the day may help.  But my favorite idea is finding something that works and just sticking to it until they decide it is once again off the menu.  Last month that magical dish was eggs.  I got good at mixing things into omelets and just about meeting all the food groups in a plate of scrambled eggs.  Of course no one can eat eggs forever and before long they were no longer being eaten.  I had to come up with something new.
Pancakes.  Everybody loves them, even your incredibly picky eater.  Pancakes are extremely versatile.  Toss out your ideas of what a pancake should be and you might find yourself with a portable meal that your discerning diner will enjoy.  You can put just about anything in a pancake.  Mashed sweet potato and carrots, applesauce, and fruit and nuts, can all up your game in the nutrition department.  You can turn what was once a carb ridden sweet breakfast into a hearty meal by swapping and adding in different ingredients.  This idea can also be transferred to something like hash brown potato pancakes with onions and cheese, perfect for lunch or dinner.  Another great thing about pancakes is that you can find a mix that meets your dietary needs, whether it is gluten free, or organic.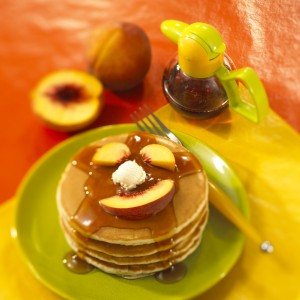 My favorite recipe is naturally sweet while still packing a punch.  Try this one next time you need to shake things up in the kitchen.  You won't be disappointed.  (Remember you can substitute any of the ingredients to meet your family's needs)
I don't measure things out, but this makes about 6-8 small pancakes, so double accordingly.
2 eggs
1 single serve Yogurt.  (Try to go with full fat if you are using dairy yogurt (Stonyfield toddler yogurts and Wallaby already have the fruit mixed in) you can also use coconut, almond, greek, or soy yogurt)
1-2 tbsp nut butter (easy protein)
Pancake Mix (I use gluten free Bisquick but any kind will work, just use enough to make the batter thick.  Maybe ½ cup)
Feel free to add in any extras.
Set your frying pan to high (I use coconut oil to cook with-it adds extra fat and is really good for you). I encourage you to investigate coconut oil and consider using it for all your cooking needs.  Okay back to the recipe, slowly add batter to pan; I find that my son eats the silver dollar sized pancakes better.  Reduce heat to medium high- the first side will cook until a bunch of bubbles appear, about 2 minutes. Flip it over for a bit to finish and you're done.   Serve with fresh fruit.  Yum.
Tip:Make this even more fun by creating fun shapes, like hearts, or Mickey Mouse.  Top with fresh fruit preserves instead of syrup.