If you have ever browsed through the materials list on cloth diapers you may have noticed that some have PUL, some have TPU, and some have Nylon or Ultrex.  These are the waterproofing layers of modern cloth diapers.  You may be wondering how they differ and if one is better than the other.  There has been some debate as to the environmental factors and chemical contaminants of each of these products and I hope to dispel any lingering questions you might have.  Let's start with the most used Fabric PUL.
PUL: Polyurethane Laminate is used in most brands of cloth diapers.  Fuzzi Bunz, Bumgenius, Happy Heinys, and Bummis Super Brite Covers all use PUL.  Polyurethane is the main waterproofing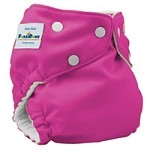 component of All in Ones, Covers, and Pockets.  What exactly is PUL?  PUL is basically any polyester or cotton fabric that has had a polyurethane lining or coating chemically bonded to one side to make it waterproof.  There are different types of PUL.  Some are shiny and slick feeling while others feel smooth.  I have some PUL diapers that feel kind of stiff and are hard to manipulate while others are a bendable as a cotton t-shirt.  It really just depends on the manufacturer.  A major downside of PUL is that it is not a breathable fabric.  Because it is designed to keep in liquids is also keeps air from flowing in and out as well.  Some children have developed PUL sensitivities for this reason.  I have found that as long as I give my son a little open air time between changes he doesn't have any issues.  Another complaint from some is that PUL is chemical treated, so if you are looking to go all natural this may not be the choice for you.  Just something to keep in mind.
TPU: Okay on to TPU.  TPU or Thermoplastic Polyurethane has been on the market in the textile
world for over 30 yrs but has just now wiggled its way into cloth diapering.  TPU is used by Grovia and Rumparooz along with a few other brands.  TPU is very similar to PUL.  The main difference is that TPU is heat bonded instead of chemical bonded.  Basically these are the same fabric, even though companies have claimed that TPU is better at biodegrading that really can't be proven yet.  What people seem to really like about TPU is the feel.  It is very soft and more fabric like, less plasticky.  But TPU is also less durable that PUL.  TPU should not be washed on HOT and may not last as long as PUL.  But if you take good care of it and follow washing instructions there is no reason why TPU shouldn't last a very long time.
Nylon and Ultrex: These go in the same category because they both have one thing in common they are breathable.  Unlike PUL and TPU these waterproof fabrics allow airflow.  Ultrex is a cottony fabric

that is coated with a micro porous Teflon membrane, the same stuff that is on your cookware.  I do have a few ultrex covers and can attest to the fact that they are breathable.  Ultrex is chemically bonded so if you are worried about fabrics gassing off you may not wish to choose this one, but from everything I have read it is very safe and has little to no chemical residues.   Nylon which is used in Gdiapers, Nikkys Covers, and Bummis Whisper pants and the old fashioned Dappi Pants, it is a favorite among those who want the reliability of PUL but the breathability of cotton.  Nylon is great for diapers but can sometimes not be as waterproof as other choices.  Both Ultrex and Nylon are not to be washed on HOT.
There are a lot of choices out there and each one has advantages and disadvantages.  If you are struggling with what to pick just try one of each and go from there.  If you live in an area that gets very hot weather then maybe Nylon, if you like the ease of pockets then TPU or PUL.  It is all about finding what works and sticking to it.  Unless you choose to go with wool and all cotton each of these materials will have a chemical process so don't get too caught up on which is more earth friendly, sometimes function wins out in that contest.  Each of the fabrics perform well and you will not be dissatisfied with any of them.