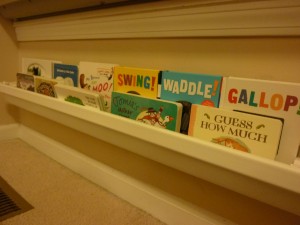 We just started converting the extra room in our house into AL's play room. I don't want it to be just an ordinary play room, though. It is important to me to also make it educational. Maybe it's the ex-first grade teacher in me… maybe it's my dreams to make it a room to use for home schooling in the future… Either way, I am really loving this little space in our home!
The wallpaper that bordered the walls right below the ceiling has been replaced with an alphabet border and numbers 1-10. There is an imagination corner in the room with a wooden play kitchen and dress-up basket. Well… because AL is only 11 months old, her "dress-up" basket holds a bunch of colorful scarves that she loves to play peek-a-boo with or just empty out all over the floor – it's okay, we don't mind one bit!
We have a music corner and a home-made ball pit. In another corner we set-up an infant shade tent and filled it with pillows, a blanket and a few stuffed animals to turn it into a reading tent. There are one or two books that we have left in the tent, but we needed to figure out a way to organize all the books AL has to really make her reading space effective.
A typical shelf wouldn't work because it would be pulled down, causing books to fall and making it an unsafe choice. I needed to figure out something that would work and would be low enough to the ground so that AL could pull out the books she wanted to read (or have us read to her).
The perfect solution? A Rain Gutter Book Shelf
It was so easy to make and looks pretty classy for being a rain gutter! I love that it shows the cover of the books encouraging kids to read more, compared to a typical bookshelf showing only the spine of the books.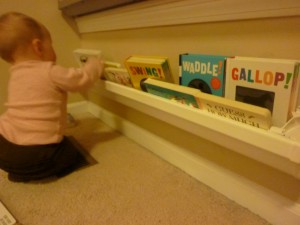 How To:
** We bought our rain gutter from Home Depot. It only comes in one size (10ft) but depending on how long you want your shelves, they can cut it in the store for you (which also helps make it so much easier to get it home). We asked them to cut ours into thirds, but you could also have them cut it in half. I wouldn't go smaller than thirds because of the brackets you need to hang them on the wall will not leave much room for the books.
** Each shelf needs two end caps and two brackets – one on each side.
1 shelf = 2 end caps and 2 brackets/screws
2 shelves = 4 end caps and 4 brackets/screws
3 shelves = 6 end caps and 6 brackets/screws
** The brackets are used to sturdy the shelf and to attach the shelf to the wall. I slid the brackets on the rain gutter and then put on each end cap. You will need to use a screw to attach the shelf to the wall. Don't worry! The brackets already have holes in them for each screw. Get out the level to make sure your shelf isn't crooked and drill the shelf to the wall.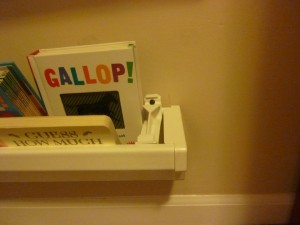 AL has given it a thorough testing by pulling on it to stand up and taking out every book. That shelf isn't going to budge. I think the secret is in the brackets and using wood screws.
If you wanted to spice things up, you could paint a pretty design across the front of the gutter, or just paint the whole thing so it is a different color than white – I saw one painted black one on the internet and thought it looked pretty slick!
How do you organize your children's books?