Another wet spring day means Mommy needs to get her creative gears turning…. which can be especially hard when you are 35 weeks pregnant and exhausted!
Right now, we are having a picnic on the living room floor while watching Toy Story 2. My almost 3-year-old gets bored quick so this is what I have on my rainy day go-to list…
Watercolors- I have a ton of colored construction paper that my son likes to create his works of art on. A little cup of water and some cheap Crayola watercolors and he is occupied for a good 30 minutes!
Pool party- My little guy is part fish so the bathtub is always a good choice. Fill up the tub with some bubbles and toys and he is in hog heaven!
Lego architect- We love to build houses for his Toy Story figurines out of Legos and play house.
Top Chef- This one is great because I can rest my pregnant feet for a little bit and let him take my order and make me a pretend meal in his little kitchen.
Dress-up- He loves to put on his different costumes, especially Buzz Lightyear, and "fly" around the house.
Fort City- We gather every blanket and sheet around the house and make a big city of forts in the the living room. We have fun crawling through them and playing hide-and-seek inside.
And my favorite… story time! There is nothing better than cuddling up in bed with my favorite little guy to read books on a rainy day.
Here are some more fun ideas that I found on the internet. The best part is that you probably have the supplies for these crafts laying around your house! Enjoy!

***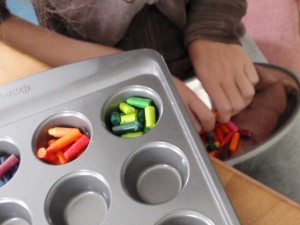 Baked Crayons- Use little nubs or broken crayons. Baked in a muffin tin at 150 degree oven (or the lowest setting your oven has) for about twenty minutes or so. Cool to room temperature or if needed 20 minutes or so in freezer. That is it … lovely multicolor crayons for your little one's next drawing project.
Face Painting- Here is a great recipe for homemade face paint!
1 tsp. corn starch
1/2 tsp. water
1/2 tsp. cold cream
Food coloring
Stir together starch and cold cream until well-blended. Add water and stir. Add food coloring. Using a small brush paint designs on child's face. Remove with soap and water. Store in airtight container.
Peanut Butter Play Dough- fun to play with and yummy to eat when you are done!
18 oz. peanut butter
6 tbsps. honey
Non-fat dry milk
Cocoa for flavor
Mix all ingredients, adding enough dry milk to give make dough pliable. Shape, decorate with edible treats, and eat!
Button Jewelry- Find that bin of old buttons, get some string, and you have a fun day of making bracelets and necklaces with your little ones! (courtesy of Children's Orchard)