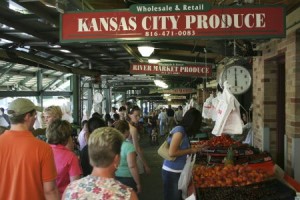 Farmer's markets are a great way to get some yummy, in-season produce for very cheap. Knowing where your produce is coming from also if very important so it is nice to be able to directly talk to the person who grew it. An important question to ask is whether or not pesticides were used on their crops. According to a report from the 2009 President's Cancer Panel, kids are more vulnerable to harm from pesticides (including an increased risk for cancer). Switching to pesticide-free produce can cut your intake of pesticides by almost 80% (compared to non-organic produce) says the Environmental Working Group. Buying in-season produce from a farmer's market is much healthier and cheaper. To save even more money and stock up your freezer, buy in the bulk and do the following:
Wash produce in a colander and swirl around in water for at least 15 seconds.
Blanche in boiling water for 1-2 minutes. (Veggies only!)
Cool in ice water then drain.
Pack in a heavy-duty freezer bag.
All of the following can be kept in the freezer for up to a year:
Blackberries
Blueberries
Cranberries
Broccoli/ Cauliflower- cut into florets
Cabbage- shredded or cut into wedges
Carrots- cut into 1/4 inch pieces
Corn- cut cob in half or off the cob
Grapes
Green beans- trimmed
Potatoes- peeled
Raspberries
Tomatoes- whole, peeled or chopped (blanche for peeled or chopped)