I love sensory bins!  They are a great way to teach children about the World and have fun.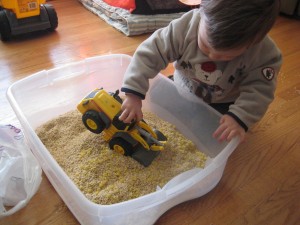 There are endless ways to make bins and at our house we are just starting to explore our options.  Touching, seeing, listening, sometimes even tasting; it's a fun way to supplement a learning opportunity or just as a great way to spend an afternoon.
Earlier this year we made one from a large lidded tote/bin and filled it with about 15 pounds of rice and 3 boxes of mini shell pastas.  (Many people use beans or lentils as the base for their bin, but we have food allergies so rice and pasta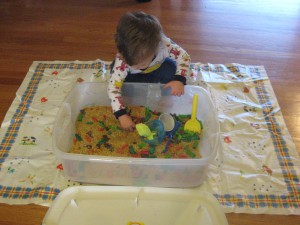 it is!) This alone severed us well.  G loved playing with his cars and trucks in the bin.  Then we decided to jazz things up by adding dyed pasta.  If you haven't dyed pasta before I suggest it.  It is fun, easy and the results are great. So far we have just been playing in our bin.  We sort the pasta by shape and/or color, we bury items like cars, puzzle pieces and blocks and then try to find them, and we just "drive" our cars and trains through "off-road terrain".  We also love to pour cups of the rice and pasta over his out-stretched hands, it feels fun and helps him explore different textures.
A sensory bin can be anything you want it to be! Here are a few ideas for sensory bins:
Summer Fun: Grass, flowers leaves, sand, pictures of the sun, piece of terry cloth, sunblock, sun glasses

Letters: Things that start with a letter.  A "R" bin could include: rice, robots, pictures of rain, rubber balls, rainbows, red things

Colors: All Blue items.
The options are endless when it comes to sensory bins!
Have you made a Sensory Bin before?  What are your favorite things to include?