My new favorite craft supply is shaving cream.  Cheap shaving cream at that.  It smells good, it cleans up easily, it is cheap, and it feels fun too.  How can you lose?  Here are 2 "toddler approved" projects we've done with shaving cream…I expect we will find more in the future too.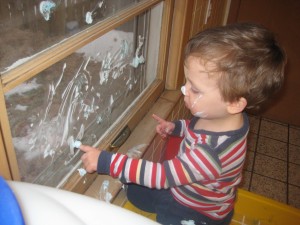 1) Window Painting
Pretty straight forward.  I just spayed some lines of shaving cream on the window and let my son go to town!  He loved the feel of the cream and he had a good time spreading it around and them wiping it off.  He even painted his face a little with it!
We did have to bring a bowl of water over because he wanted to rinse off his hands once they got caked with shaving cream.
This is a great project for the winter too.  I think the cold glass adds to the sensory experience.
2) Paper Painting
The downside of Window Painting is that the art isn't lasting.  So we decided to try our shaving cream on paper.  This time we added color! (Note:  I wouldn't try adding color on the windows in case it stained the frame)
Spray out some shaving cream into cups or trays.  I love recycling old Styrofoam trays that meat or produce comes on – they make great "pallets".  Then add your color and mix. We have liquid water-color paint, but food coloring works just as well.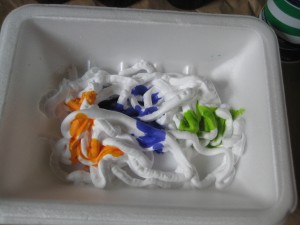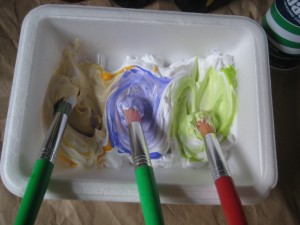 The cream fluffs up the more your stir it.  It makes a nice foamy, pastel paint that goes on to paper well.  I've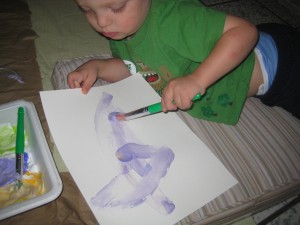 found that water color paper, thicker construction paper or card stock works best for this project.  It is also fun to pile the paint onto the the paper and let it dry.  It will start out as a fluffy 3D image, but over time it "melts" down so it just leaves a stain on the paper.  We loved going back and checking on his art the next morning to see something totally different than it was the night before.
I think our next project with the shaving cream will be in the bath tub.  Can you imagine…tons of fluffy foam that he can roll around in and squish between his toes?  And once the fun is over just add water and wash it away!