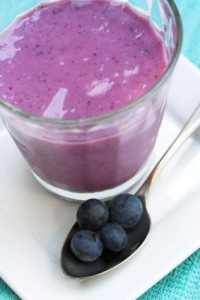 Getting your recommended amount of veggies isn't always easy.  It is even more difficult to get your toddler or young child to eat all their greens.  You can attempt to mix broccoli and carrots into brownies and sweets, but in the end all you are doing is teaching your children that vegetables are something to be hidden.  There is a good chance they are not learning good eating habits when you have to sneak in the nutrition.  Enter the smoothie.
Smoothies are similar to milkshakes but where the main ingredients are produce.  There are hundreds and hundreds of smoothie recipes.  There are even recipes tailored to specific dietary needs, such as diabetes or pregnancy.  Fitting one smoothie everyday into your diet can make positive changes to your health.  If you are dieting for weight loss, opt for nutritious smoothies instead of meal replacement drinks which are often filled with artificial sweeteners and additives.  Smoothies are very filling and can be stored in a fridge at work or for later.  You can also alternate smoothies with juicing.  Just be sure to give yourself at least a bit of nutritious kick everyday no matter how it comes to you.
Smoothies are a wonderful way to introduce your child to fruits and vegetables in a way that they can see what is actually going into it.  Let your child help you add the ingredients to the blender.  My son loves watching everything get blended together.  It is like a mini science experiment to see what color it will become.  Smoothies are also naturally sweet and a great mid morning snack or even light breakfast.
Smoothie Making Tips:
Have ziploc bags with precut frozen fruits and vegetables in your freezer.  By having frozen fruit you cut out having to add in ice which can sometimes make smoothies grainy.  You can also purchase bags of frozen veggies and fruit from your local grocer.
Add whey/soy protein to your smoothie mix for an added boost.  This is especially helpful if you have a child who doesn't like to eat meat.  You can buy a large tub of protein at the store for under $20.00.  Unflavored is best, but if you can't find it go with vanilla because it will blend in with different flavors more easily.  I add about 1 scoop for 2-3 smoothies.
Experiment with adding in new things like yogurt, flax, coconut milk, even granola on top.  You can turn any smoothie into a desert by adding fresh fruit slices and whipped topping.
Don't be afraid to go green.  Adding spinach may seem like it will taste bad but when mixed with strawberries you can barely even taste it.  and actually spinach, kale, and other leafy greens can add a sweetness of their own.
Layer your blending.  Rather than blending everything at once, pulse each item as you add it.  For instance blend the carrots, then add the orange juice, blend, then the protein, blend, then the coconut milk.  This gives it all a more even texture.
Great Breakfast Smoothie:
1/2 cup milk (can be coconut/almond/soy/cow)
Handful of frozen carrot slices
1/2 cup frozen fruit(bananas and strawberries are great)
Protein Powder
Scoop of yogurt(plain/greek)
1/2 cup fruit juice of your choice(no sugar added)
Blend and enjoy….put this mix into a cup with lid and straw and take it with you to start the day.  Smoothies can make a great replacement for caffeine addictions.