Whether you work full-time, part-time or stay home full time…isn't it amazing what a mama does in one day…sometimes in one hour? Being a mommy is the hardest yet most rewarding job I've ever had.
I am reminded from time to time that I don't want to miss out on those precious moments like my oldest daughter finding joy in holding her first worm or my youngest daughter belly laughing. I don't want to find myself going through life trying to check off the list and miss moments that make up my children's lives. Do you ever find yourself checking off the list and realize at the end of the day or week…wow, what just happened I got a lot of "stuff" done, but missed out on some important moments? I know I do…I've found myself there lately!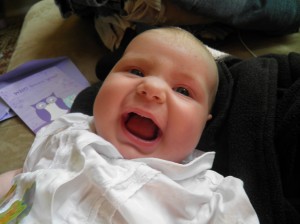 I wasn't able to sleep the other night, because a good friend of ours was in labor and I was excited to hear the news! It gave me time to think and pray in silence and I was reminded of one of my favorite bible verses – "Be Still and Know that I am God" (Psalm 46:10). During my silence I was reminded to slow down and encouraged that it is God's past that provides calm for my future and calm when I'm in thick of things, when I'm under the pile of laundry, when I'm nursing a baby and trying to stay engaged with a toddler and doing all those things that make up the job of mommy. I was also reminded while waiting to hear about the new miracle being born that I always want to enjoy my children even more today than I did yesterday and to never miss out on the miracle of just them.
So I did that today…the laundry waited, the dishes are overflowing, but I didn't miss out on my miracles! I called my hubby on the phone and warned him that he was going to come home to a messy house and his response was, "Do you still have your sanity, did you have fun, did you enjoy the kiddos today?" I was reminded why I love him more today that I did yesterday!
I wrote down some things that I try (I say try, because I don't do very well at this…I am a work in progress) to do to help me stay in the moment with my children and family…I thought I would share them with you:
Start out my day with a few moments of silence! (We are a praying family, so talking with the Lord in the morning is what I do).
Make a list of what "needs" to get done, so I'm not overwhelmed thinking about it all day. When I get to cross it off it feels oh, so good! Sometimes I find myself putting little things on the list just so I can cross them off.
Wear them! I love wearing my baby and have a new found love for wearing my toddler and they love it too! I can get a few things done around the house and still be in the moment with them.
Stay on the floor with the kiddos! They love it and I get to learn about their world even more.
Make cleaning a family activity! My toddler loves helping me with the laundry, dishes and dusting…it may not be done how I like it and it takes us a lot more time, but we sure have more fun!
Get Outdoors! There is nothing quite like nature to help slow me down and get me away from the distractions around the house.
Breastfeeding on cue! I eat when I am hungry, so I feed my babies when they are hungry. This helps me to listen to them and slow down enough to kiss on their toes and tickle their neck and just take in those tiny things I might miss when I get busy.
Snuggle time! We enjoy sleeping in on Saturday mornings when we can…we call them "in-sleepins" around our house. It normally turns into laughter and lots of tickling. Remember STOP…Hammer Time! Well, our family has STOP…snuggle time! I highly recommend it through out the day.
Be still enough to listen to them, share in their joy in the small things, find out what fascinates them, excites them, makes them giggle or sad and just be still enough to appreciate them for the gifts that they are!
What helps you stay in the moment? I would love to hear…us mama's need to stick together and help each other out!