You don't often hear the words "trendy" and "eco-friendly" in the same sentence. Many people picture eco-friendly moms as 1970s hippies (not that there is anything wrong with that!). That is so far from the truth! Gear for moms and babies have come such a long way and there are so many cool, new choices!
When shopping for eco-friendly gear for you or baby, there are different things to look for. There are many different terms companies use to describe their items…
If it says, "organic", it means that the product is made entirely or partially with organic materials that meet federal government standards.
If it says, "biodegradable", it means that the product is made from natural ingredients that can be broken down quickly by natural processes without harming the environment.
If it says, "sustainable", it means that the product is made with resources that do not deplete or harm the environment (i.e. bamboo instead of old-forest hardwood).
Now, on to the fun part… SHOPPING!

 Here are some of my favorite choices and why I love them.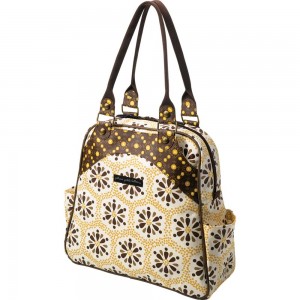 Petunia Pickle Bottom Sashay Satchel
This bag is made of organic cotton canvas and is super stylish!! I love this bag because it offers the option of backpack straps and still looks like a nice purse when you are out without the kids.
Retails for $119.00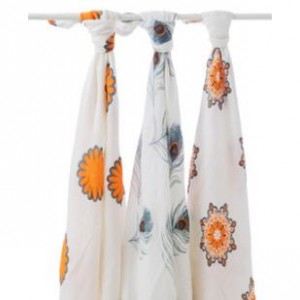 aden+anais Bamboo Muslin Swaddling Blankets
Hands down, these are the best swaddling blankets! The bamboo swaddlers are made of 100% bamboo. These swaddling blankets are wonderful for many reasons. The muslin allows for breathability, they are generously sized at 47″ by 47″, and they get softer with every wash! You can also use them as nursing covers, car seat or stroller covers, etc. According to www.bloumebaby.com, they are also manufactured in an environmentally and socially responsible manner.
Pack of 3 retails for $40.00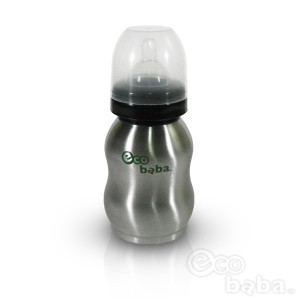 Eco Baba Stainless Steel Baby Bottle
These are sooo cool! These bottle are a much safer option than plastic or glass baby bottles. They are BPA free and 100% recyclable. The benefits of these bottles are endless… non leaching, FDA approved stainless steel, no paint, lacquers, liners, glues, or adhesives used and the nipple is made from food grade silicone. The best part- when baby is ready to use a sippy, just put on one of the Eco Baba Plastic Sippies (sold separately). No need to buy a bunch of sippy cups!
Retails for $16.95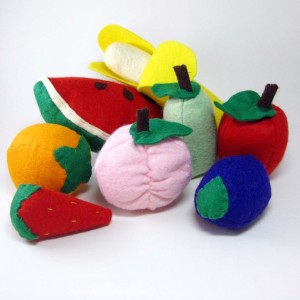 Bug Bites Felt Play Food
These are just the cutest toys ever! Each piece of "food" is handmade from Eco-Felt (100% polyester made from recycled post-consumer plastic bottles). What I love about felt food is that it is soft and it encourages kids to explore different foods.
Prices vary- Above "Orchard Fruit Felt Play Food" retails for $32.00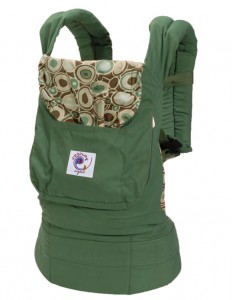 ERGObaby Organic Baby Carrier
Well, we all know that ERGO baby carriers rock! This one is made of 100% certified organic cotton. These carriers are built to last! Super strong with reinforced stitching and interior interfacing and, best of all, machine washable! These carriers distribute weight evenly so that carrying little one is much more comfortable than when using other carriers. Matching organic accessories also available!
Retails for $145.00