While most of us are aware of the dangers of second-hand smoke, many have never even heard of third-hand smoke much less know about the dangers associated with it. What is scariest, studies are showing that third-hand smoke is just as dangerous, if not more, than second-hand smoke.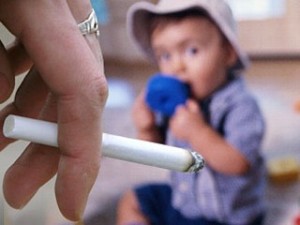 What is third-hand smoke?
Third-hand smoke refers to the cigarette byproducts that cling to smokers' hair and clothing as well as to household fabrics, carpets and surfaces — even after secondhand smoke has cleared. Even after the smoke is gone and so is the smell, the risk is not. Some of the dangerous chemicals found in third-hand smoke include cyanide, lead and arsenic. Studies at San Diego University have revealed that the toxic residue left behind actually gets more harmful over time as the nicotine reacts with other household gases and chemicals. Children are at an increased risk for exposure because they play, crawl, touch and mouth everything. Some of the risks include decreased IQ and other brain development issues, respiratory problems including asthma, SIDS, and cancer. Recent studies have also shown that contact with third-hand smoke by pregnant woman can also harm their unborn baby's lungs. Click here to read more.
What can you do?
First and foremost, create a smoke-free home and environment for your family. Ask friends and family members that smoke to not smoke around or near you or your children. Try to avoid cars and homes that are smoked in. Remember, though, that just going outside or stepping away to smoke does not decrease the risk since the toxic residue literally clings to everything- hair, skin, clothes, etc.
Be aware that some hospitals are changing their maternity ward visitor policies. A family member of mine just had her baby at St. Luke's South in Overland Park and apparently they make anyone that smokes wash their face, arms and hands, brush their teeth, and change their clothes before visiting mom and baby. This is a good policy to take home with you!
If you live in a home that has previously been smoked in, know that it is very difficult to get rid of third-hand smoke. Some sources recommend replacement of furniture and carpet, however, there are less-expensive ways to reduce your risk.
Dry clean/industrial clean all your clothes, linens and towels. This can get a bit expensive but it's cheaper than replacing them all.  If they still smell smoky (to a non-smoker, wash again or consider slow replacement).
Wash down all the walls with sugar soap. This will help, but it may take several goes to get most of the third-hand smoke residue off them.
Have all your fabric covered furniture steam cleaned. If it still smells smoky (to an non-smoker) it might be time to start replacing items.
Wipe down all wooden and hard furniture with appropriate cleaning solutions. ANY surface can collect third-hand smoke.
Steam clean ALL carpets and drapes.  Have all hard floors professionally cleaned. Carpets are a massive problem.  Again if they still smell even vaguely smoky it might be worth considering replacement when cleaning third hand smoke.
While these steps sound drastic, further educate yourself on the dangers of third-hand smoke and you will quickly realize how scary it is! Here is a great, informative article on third-hand smoke. Spread the word of the it's dangers!
Sources:
http://www.mayoclinic.com/health/third-hand-smoke/AN01985
http://www.lungdetoxification.com/blog/tag/how-to-get-rid-of-third-hand-smoke/