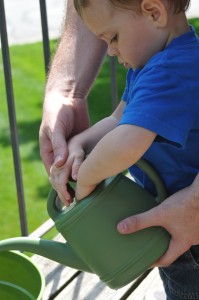 You don't have to have acres and acres of land to be able to create a vegetable garden for your family.  In fact all you need is a few pots, water, and sunshine.  After reading an article in a gardening book about container gardens our family decided to put it to the test.  Because we live in an upstairs apartment we were concerned that we may not be able to grow much of anything.  I am happy to say that three weeks later we are starting to reap the rewards of our urban garden.
The best plants for container gardens are tomatoes, peppers, strawberries, even cucumbers, and potatoes can thrive if the pot is ample sized.  If you have a bit of ground to work with corn and melons grow very quickly and with little effort on your part.  After you choose your plants, and I would suggest organic seeds, then it is time to plant.  We ended up going with different sizes of plastic containers from Wal-Mart, you can get them for under three dollars, they also have clay pots at reasonable prices.  Any home goods store should have what you need.  We only needed two bags of potting soil but depending on what you decide to do you may need more or less.
Planting was very easy.  We got our son involved, and he had fun pointing to the seeds and getting his hands in the dirt.  Choosing different colored pots also made it fun because he was able to point to certain colors when we asked.  We lined up our containers along our railing on the balcony and waited for rain.  Well we got it and plenty.  After less than a week we started to see little green sprouts shooting up from the soil.  The only issue is that with so much water the plants did become flooded at first.  I had chosen to test out planting in an old little trash pail and it was totally flooded, I ended up trying to dump the water and then set that plant under the awning.  One tiny bean sprout has grown up from it.  If you are going to use things not intended for planting make sure you put a whole in the bottom so it can drain.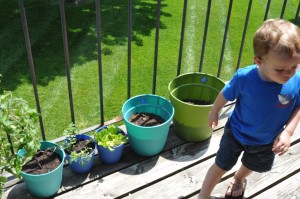 There are some very good reasons to start a garden, whether it is in your backyard or on your patio.  First off it is important for children to get back to nature.  Too often in our society of video games and computers, kids become separated from the natural environment around them.  A garden is an excellent way to get them back in touch with nature.  Another reason is the financial savings.  It doesn't cost very much at all to start a garden and it is much cheaper than paying $4 for tomatoes at the grocery store.  You also will have the knowledge of what exactly has gone into your produce, no fear of toxic chemicals.  Lastly it is fun and emotionally rewarding.  Seeing your accomplishment and then having the ability to feed your family with it is an amazing incentive.