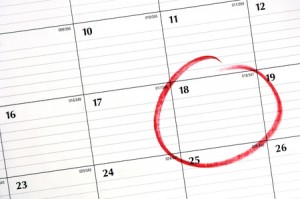 First off, I don't truly believe in being overdue. I believe that babies are born at the perfect time and are never "late"… saying that, I was 2 weeks past the day that my doctor had estimated so I know what it means to play the waiting game.
I didn't have to fight too hard to hold off on scheduling an induction because AL's fluids still looked fine and I didn't have any other complications such as high blood pressure, etc. Although, my doctor would ask me every time I came in her office if I was ready to have a baby yet. I would always reply, "Of course! But some things are worth waiting for."
BUT… I think no matter if you fully understand that your EDA is in fact just that, an estimated date of arrival, there is still something in your brain that says "Dang!" when you don't have a sweet, soft baby in your arms after that day passes… and then another week… and then a few more days… Maybe because that is the date you share with all your friends and family (and some strangers) for 9 months over and over again. It is marked on the calendar and at every doctor's visit you are told you are measuring at X weeks as you count up to 40.
Most first time moms go past their estimated due dates so try to avoid any worries! Plus, every day you wait (as long as your doctor/midwife is okay with it) allows your body to be one step closer and prepped for a smoother and faster delivery! SO… remember some things are worth the wait!
Either way, if you are pregnant and waking up every morning wondering if today is going to be THE day, here are a few things you can do to stay busy, relaxed and have some fun while you wait.
1. Try to enjoy those last few days… the round belly, the kicking feet in your side. Yes, it's true, babies are so much more fun on the outside, but these are the days the two of you share solely together. There is no other time you share two hearts in one body.
2. Go see a movie. (I think I went to 3 in my last week) It's fun to get out of the house and munch on popcorn even if you are wearing sweats and your husband's t-shirt.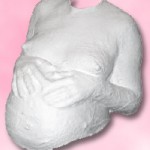 3. Head to Hobby-Lobby (or any craft supplies store) to pick up some items to make your own belly cast.
4. Soak in the bathtub (it can be as simple as that!). Maybe add a good book or relaxing music of your choice.
5. Find a place with an indoor pool (click HERE to find your local YMCA). It feels so good to feel weightless when you are carrying around those extra pounds. I would also suggest using some type of flotation device (noodle, kick board, etc) so you don't have to work hard to stay above water.
6. There are plenty of old-wives-tales out there that you can find on the internet if you are really desperate to get the ball rolling. However, most of them are not going to give you a Baby Day. My advice? Order a pizza, sit on the couch with the hubs and have a movie night – you will get the same results. Babies come when they are ready!
7. If your husband is into video games, try and play one with him! It maybe a new way for you to release some stress.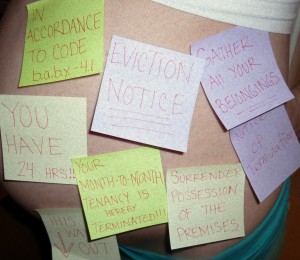 8. Write your little one words of encouragement (or try some bribing) on sticky notes. Put them all over your tummy – it makes for a cute picture. This picture is from my 41 week tummy. We tried some "tough love" and wrote AL eviction notices – it didn't work

9. Make a rice sock for during pregnancy and/or to help with labor. It can be cool or warm!
10. Bake! You can eat the treats yourself or share with others. Make the baby a "birthday" cake to try to entice him/her.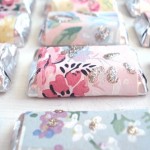 11. I stayed busy one night by making personalized mini candy bar wrappers. I gave these out to the people who came to visit us in the hospital and shared them with nurses. We had plenty that I continued to give them to visitors once we were home as well. They said AL's first and middle name on one side, and "sweet baby girl" on the other.
12. If you don't already have music to take with you to the hospital, make a playlist. We had music ready for me to listen to while I was in labor, but we also made another playlist for hanging out in the hospital afterwards. We listened to it every night when we went to bed. It helped us sleep and drowned out any hospital noises.
13. This was hands down my very favorite video to watch. Strength. Peace. Love. watch?v=z3WA9iHz5ww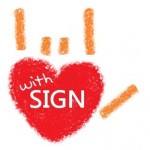 14. Learn sign language so that you can start early communication with your little one! We started signing "MILK" with AL from the day she was born - every time she would cry because she was hungry and while I nursed her – over and over and over again. When she was 5 months old, she would smile and react when we signed it to her. When she was 8 months old, she signed it back! Learn a new sign every week for free at www.withsign.com
15. Make a romantic dinner together with the hubs.
16. I have heard that a romp in the bedroom is really the only old-wives-tale that has some truth behind it… just saying…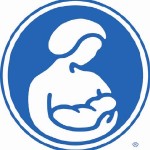 17. Get connected with a breastfeeding support group! Check out your local hospital and/or La Leche League to ensure that you have peeps to bounce ideas back and forth, answer any questions and who will have your back when it comes to providing your baby with mama milk.
18. Take a moment to give yourself a pat on the back for creating such a wonderful and comfy place for your sweet baby to hang out (so comfy he/she doesn't want to leave!)
19. And above all… when the time does come (and it will, I promise!), remind yourself that your body and baby know what to do. You are a link in a long (and strong) chain of women who deliver babies – with or without medical interventions!! Birth is a powerful experience and such a gift no matter which path you use to get there.
20. What have you done while you were waiting for your sweet baby to arrive???